Four new tractors and trailers along with a number of bins were on Wednesday handed over to Neighbourhood Democratic Councils (NDCs) on the Essequibo Coast by the Local Government and Regional Development Ministry.
Minister Norman Whittaker handed over the tractors and trailers at a ceremony at the Regional Democratic Council (RDC) Office at Anna Regina.
The NDCs that will benefit from the new machines are Aberdeen-Zorg-en-Vlygt, Annandale-Riverstown, Good Hope-Pomona, and Charity-Urasara and Evergreen-Paradise, which are to share a tractor and trailer.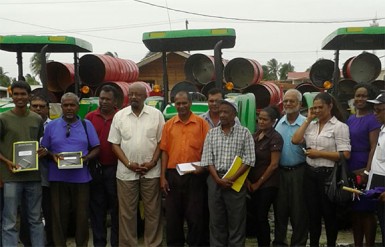 Baramnaught Persaud, Special Projects Coordinator of the 'Clean Up My Country' campaign, said the machines are intended to complement the clean-up works that were started from Supenaam to Charity under the programme late last year.
Persaud said it is not expected that the tractors and trailers will be used for garbage collection. "There are a lot of other work that they will be used for," he noted.
He noted that there are some issues with garbage on the Essequibo Coast and he said the ministry is working with the contractor to address the situation. "The regional solid waste programme in Region Two is not of the best standard that we would like it to be. I think from where we started off, we can do better. So, hopefully by [the second] half of this year we can be on top of everything," he said.
When handing over the tractors and trailers to the Overseers of the NDCs, Whittaker said it is now their responsibility to ensure that the machines are well taken care of.
Whittaker, in his address, called the tractors and trailers a fulfillment of a commitment by the government to assist NDCs and municipalities to position themselves where they can sustain the 'Clean Up My Country' programme. "[It] is not simply a project but a programme in terms of maintaining a clean environment throughout our lifetime. The tractors and trailers are not being given to clean up garbage but they are being given to the councils to be used for the benefit of the people of the NDC," he said.
According to Whittaker, the work committees of the NDCs must plan what will be done with the machines and within the next fortnight he expected to see a schedule for the next three months.
The minister said the schedule will guide the work of the tractors so conflicts can be avoided.
The tractors each cost $4.43M and the trailers cost $1.25M each.
Around the Web