Words + Photos by
Rae Wiltshire
Purple, pink, green and orange filled the air, enclosing the huge crowds of people within a haze of colours; you can't see them but you can hear them, their joy and excitement evident in their voices. The haze is only momentary. Before you know it, some particularly adventurous celebrant throws water into it, dissolving the colours.
It's Phagwah Day in Guyana, a true the "festival of colours" as different races of Guyanese turned out across the country to celebrate. Neighbours put aside their animosities, old friends rekindled, and even the politicians seemed to forget that in May they'd be duking it at general and regional elections.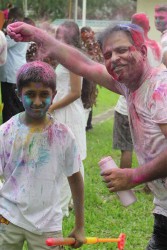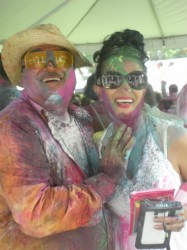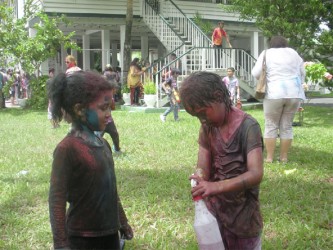 President Donald Ramotar was seen celebrating along with opposition member Basil Williams but there was no apparent tension between the two. The duo seemed to understand that Phagwah was a time for people to love each other, to meet others, play and laugh, forgive and forget, and repair ruptured relationships—at least to fake it while the cameras are rolling.
Persons turned out across the country to celebrate and there was a lot of excitement particularly at the Indian Cultural Centre. There, young children made a spin on the traditional form of Phagwah play and used water guns to spray others, the water in their tools green, yellow and red from powder. These youngsters had clearly seized the freedom given to them by their parents to enjoy the day.
In the streets, the excitement was just as high. In Kitty, little children prowled the streets, waiting for unsuspecting passers-by to attack without remorse. As they played, many of the adults watched on, choosing instead to partake in drinks. They too were apparently victims of the children and were completely covered in bright colours. Underneath the thick powders their skin colours were indiscernible; had it not been for their hair texture, one could probably not determine their race.
Also in Kitty, persons showed their innovative twists on the traditional holiday; one family had an indoor pool and more than a dozen persons had joined the family in celebrating. There, the spirit of fun escaped no one and there was hardly a clear distinction between the adults and the children.
In Albouystown, anyone who passed was blessed (or cursed, depending on their disposition) with a bucket of water. The streets were congested with people, while music blared.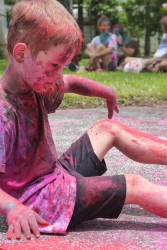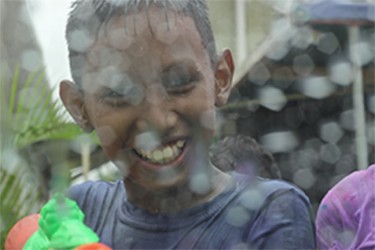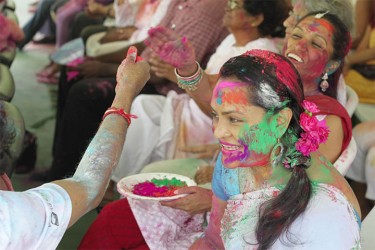 Those who tried to stand quietly by were not allowed to do so. A woman, who had been enjoying a drink on the sideline, was doused with water by a passing youth. Though she was clearly not delighted, she nonetheless laugh good-naturedly.
Perhaps the biggest turnout was at the Providence Stadium, where celebrants were treated to a free concert. The stadium was crowded with people but no seemed to mind; instead, many greeted each other with warm embraces, while others danced and got soaked under a makeshift shower created for the event.
Regardless of where people were–whether it was in the streets, at an organised event, or simply in their yards–Phagwah day had been a good one for all, a true bright spot in the Guyanese culture.
Around the Web