Crime Chief Leslie James says that now that the Cummings Lodge corpse has been positively identified as that of popular businessman Mohamed Khan, investigators will be talking to additional persons in a bid to determine the circumstances of his death.
James yesterday insisted that the investigation is "still open," while pointing out that after Khan was reported missing, police had spoken with some persons.
"We spoke to some people and we intend to continue speaking with more people to try and determine what happened, what went wrong," he said.
Samples which were taken from the decapitated body found in Cummings Lodge in September last year were sent to a lab in Trinidad in December for DNA testing. Khan's mother Khairool Neisha Khan was informed of the positive result on Thursday.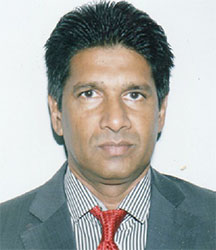 Khan was last heard from on August 21 last and he was reported missing last October. He had travelled from his home in Venezuela, where he lived with his wife and their children, to meet with his attorney and to look after some business in the interior.
Worried relatives subsequently contacted police and were allowed to view the remains of the corpse which was at the Lyken's Funeral Home. Khan's wife after viewing some photographs of the body, positively identified a belt and pants found on the corpse as being her husband's property.
Khan was the victim of a failed execution attempt last July and his relatives who were convinced that the corpse was that of Khan were hoping that a post-mortem examination would reveal some evidence of a gunshot wound. A mark was found in the stomach area of the corpse but the pathologist could not confirm if the mark was a gunshot wound, given the decomposed state of the body. The cause of death was inconclusive.
Sources had said that given the damage done to the corpse it was clear that the person had been tortured. The head was severed from the body and placed in a plastic bag, teeth were knocked out and the legs were missing; a type of killing that is a hallmark of underworld connections.
Relatives had said that his disappearance, the attempt on his life and his murder were all linked to a soured business deal which involved threats to his life and an outstanding payment of some $80 million for the sale of his Hadfield Street property. That property had housed MFK Trading.
Around the Web