Shem Padmore, the Kaneville man who was gunned down on Thursday night in Agricola, had gone there to retrieve articles that had been stolen from his brother-in-law.
His brother-in-law along with a friend who had dropped him off at the Diamond Diagnostic Centre are in custody.
This is according to one of the man's cousins, Doneeca Edinboro.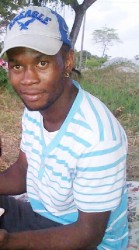 Edinboro said Padmore knew the people who had robbed his brother-in-law and he went into Agricola to confront them, and as a result he was shot in his back, with a shotgun.
She said there was not a lot of blood on his body and she thought his wounds might've been the result of an ice-picker or screwdriver. She told Stabroek News that the man's brother-in-law had dropped him off at the hospital along with a friend. "And with the fright and everything, they went off," she said.
Crime Chief Leslie James said two men are in custody.
Padmore was taken to the Diamond Diagnostic Centre at about 10 pm on Thursday by two men, who hurriedly left in a vehicle afterward. Padmore was pronounced dead on arrival and his body had what appeared to be a "bullet injury" to the back, the police said in a press release.
A post-mortem examination will be conducted on Monday.
Around the Web