A security guard who attempted to hide a quantity of cocaine when he saw the police was yesterday handed a three-year prison sentence along with a fine after he admitted to being in possession of the drug.
Teejay Prince, 23, pleaded guilty after Magistrate Judy Latchman read the charge which stated that on March 9, on North Road, he had in his possession 0.8 grammes of cocaine.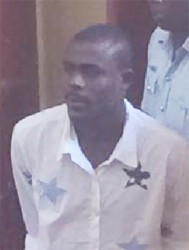 Police Prosecutor Shellon Daniels told the court that on the day in question a police patrol was in the area around 20:35hrs on receipt of information, officers went to a property located between Cummings Street and Orange Walk.
On their arrival, the prosecutor said, Prince and others were observed sitting. Prince had a black plastic container in his hand, which he threw to the ground as the officers approached. The package was then picked up and a search revealed the drug hidden inside.
Prince had nothing to say after the police case was submitted, but after the magistrate's ruling he questioned why he wasn't given a sentence to perform community service instead.
Magistrate Latchman told the defendant that she opted to be lenient in her sentence, reminding him that the maximum sentence is $30,000 along with five years' imprisonment.
The defendant was ordered to pay a fine of $10,000 along with his jail term.
Around the Web