The Ministry of Housing and Water has announced that 12 footpath bridges were recently erected or repaired in regions Three, Four and Five under Phase II of the Community Infrastructure Improvement Project (CIIP).
Among these are a new bridge that replaces a derelict structure to provide access to the Samatta Point Nursery School on the East Bank Demerara; along with similar structures at Golden Grove/Diamond Place, Beterverwagting/ Triumph and Mocha Arcadia in Region Four; Bath/Woodley Park, Profit/Rising Sun, Union/Naarstigheid in Region Five and Canal's Polder, La Grange/Nismes, La Jalousie/Nouvelle Flanders and Mora/ Parika in Region Three.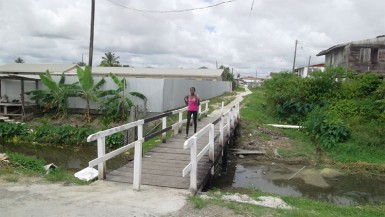 Charlene Michael, Head teacher at the Samatta Point Nursery said she is pleased that a new bridge has been built to link the two communities since 90 per cent of the student population reside in Kaneville and must cross that bridge to get to school. "The previous bridge had no rails and was unsafe…the children were scared to cross but parents had no other option…persons in the community used to so self-help to keep the bridge going…I am relieve that there is a new bridge now," she said.
Michael further said the concrete walkway built near to the bridge has proven effective during the rainy weather. "Usually, whenever it rains the place would be muddy, but during the past couple days of rain the children were able to walk the piece without [getting] mud on their footwear."
The bridge has also been a boon to the small business community in Kaneville. Shopkeeper Viola Melville said since its construction her business has increased and she believes that the additional customers are from Samatta Point. Melville said her husband was one of several persons who tried to strengthen the old, dilapidated bridge which was actually just "made up of planks nailed across two broken timber utility poles."
"Every now and then my husband would nail the loose planks and sometimes he get old wood and put on it but as you see for yourself it had no rails and had space…I am happy that a new bridge with rails was built."
The objective of the CIIP is to help Neighbourhood Democratic Councils and targeted municipalities to improve access and beautify communities. Eighteen footpath bridges were built under the first phase of the bridges component of the project.
Around the Web