Police have detained two persons and a motor car as they continue their investigations into the brutal murder of activist Courtney Crum-Ewing, Crime Chief Leslie James said last evening.
Contacted for an update, James said the men who were arrested on Friday were still in police custody. This newspaper was unable to get details about the circumstances of the arrest of the duo as police officials would only say that the arrest was based on intensive investigations.
It is unclear whether the car that has been detained is suspected to be the getaway vehicle. Based on the information provided to the police the shooter escaped in a Toyota 212 vehicle.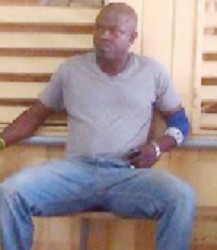 James also told this newspaper that investigators are looking at "some other footage". The footage that was captured by two cameras close to where the shooting occurred last Tuesday had revealed nothing useful.
Crum-Ewing, a 40-year-old father of three, was heard on a bullhorn shortly before 8 pm. At the time he was walking around the Diamond, East Bank Demerara community. He was urging voters not to stay at home when elections are held on May 11 but to take to the polls to oust the incumbent PPP/C government.
He was shot dead soon after. Police initially said a car with four men drove up and discharged shots at him and then drove off.
Persons have linked Crum-Ewing's murder to his political activism, saying it was most likely committed by persons who made threats to his life after he refused to end his open criticism of the government.
For weeks, he had staged a one-man picket outside the office of Attorney General Anil Nandlall over statements the AG had made in a recording that was made public last year. It was as a result of this protest action that he said he was threatened.
Meanwhile the man's mother Donna Harcourt yesterday expressed concern about the contents of a police press release written in response to a letter to the press by David Hinds. The letter in dispute had been published in the Stabroek News on March 12 and was captioned "There should be no Tit for Tat".
The second paragraph of the police's response, which was written by PRO Ivelaw Whittaker said, "The gist of the article seems to give the perception that the killing of Courtney Crum-Ewing on March 10, 2015, at Diamond, EBD, was politically motivated by persons aligned to another political party other than the one Crum-Ewing belonged to."
An upset Harcourt made it clear that her son did not belong to any party but was picketing against one member of the PPP party. She told this newspaper that her son was threatened by two persons from the PPP party and their names were given to the police when he went to the Brickdam Police Station to make reports. "Them at Brickdam did nothing about it [the threats]. I want to tell Ivelaw Whittaker that I am mad and upset about what he said," she emphasized.
Around the Web