A pregnant woman was refused bail yesterday after being charged with robbing a man at knife-point and stealing a phone.
Tamika Kennedy, 19, refused to plead to the charges when they were read to her in the Georgetown Magistrates' Court 11.
Magistrate Annette Singh questioned Kennedy multiple times about her plea to the charges. However, Kennedy sat in the prisoner's dock silent and refused to say anything.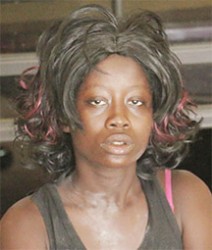 Magistrate Singh told the prosecution that Kennedy will have to return every day until she is ready to speak. Afterward, there was an outburst of indecent language from Kennedy and directed towards the prosecution and Magistrate. The matter was adjourned until the second half of the day.
When Kennedy returned to the court, the charges were read to her again. It is alleged that on March 15, 2015, Kennedy, armed with a knife, robbed Troy Roberts of $25,000 and stole a Samsung Galaxy phone valued at 80,000. When asked what her plea was to the charges, again Kennedy remained silent.
Magistrate Singh then stated that the court entered a plea of not guilty for both charges on her behalf.
Prosecutor Adduni Inniss objected to bail since Kennedy is unemployed and had no fixed address.
Magistrate Singh subsequently refused bail to Kennedy, whose next court date is March 31, 2015.
Upon hearing the ruling, Kennedy became enraged and spouted indecent language towards Roberts and spat on him as she walked by.
Around the Web