The Guyana National Youth Council (GNYC) yesterday officially launched its 'Vote Like A Boss' campaign, in a bid to increase the engagement of young people in decision making ahead of the upcoming May 11 general elections.
At the National Library Conference Room, which was packed with youths, Chair of the GNYC Tiffany Daniels told those gathered that they were the "pillars of change" for the development of Guyana. She stated that as young people come together, they will be poised to make strategic and major contributions toward the development of the country.
"The longer we take to harness the energies of youths positively, the more difficult it gets to change a nation's course in the future," she said. "As young people, we have the audacity to believe that the time for inactiveness, self-pity and apathy is no more and that the time is ripe enough for those here gathered, who are in a position of influence, to rise to the occasion and help develop the true potential of our youth."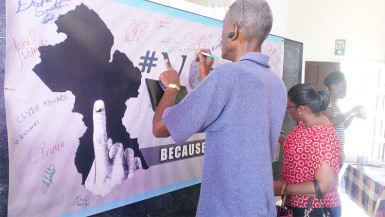 The GNYC has partnered with over 50 youth serving organisations, including the Society Against Sexual Orientation Discrimination, Women Across Differences, Guyana Women's Round Table, Blue CAPS, the University of Guyana Students Society and the University of Guyana student newspaper Splash.
Daniels stated that the GNYC and its partners are committed to ensuring young people are able to develop themselves as individuals and in turn recognise their roles in developing the country.
"On this occasion, as we launch our voter education campaign, we are extending that commitment to youth development to ensure that young voters are informed and inspired," she stated, before adding that the GNYC's goal is complementary to the goal of the Guyana Elections Commission (Gecom) towards ensuring Guyanese are educated and well informed about the electoral processes.
"The intention of is simple but transformational," she said.
The campaign is geared at promoting youth participation in decision making and strengthening youth leadership. Other objectives include increasing youth voters' turnout on May 11 and enlightening young people about the electoral processes while incorporating civic education.
The campaign will kick start with a visit to Anna Regina next week. There will be training by Gecom for volunteers, who will be conducting voters' education outreach programmes.
On March 28, the GNYC will meet to analyse and understand political parties' policies and positions. The organisation will also be organising youth seminars and street fairs in towns around Guyana. There will also be a forum to allow young people to interact with political parties and present their youth agenda.
Daniels indicated that when the GNYC began considering developing a voter education campaign, members went out and spoke to youths, questioning them why they vote or if they know what a manifesto is and whether they ever went to a political campaign before. "We were not satisfied with the responses we got," she told the gathering, adding that even though research revealed that the current generation is most likely to "push boundaries for inclusivity, be more open to others different and diverse than ourselves, be more concerned about the environment and transparency and creating change and impact on our country," youths remain politically disengaged, "not wanting to be a part of the confusion."
"Young people should vote, should understand why they vote and what they are voting for," she emphasised.
"We should participate, we must be informed and included as youths in Guyana," she added, stating that participating for change in Guyana does not begin or end with an election but with the civic duty. "Youths too can affect politics and policies," she said.
"Your vote counts, each vote counts and is an extension of your passion," she further said, adding that the GYNC was happy to collaborate with Gecom to educate the masses.
She stated that the organisation has also gained the support of the USAID Leadership and Democracy (LEAD) Project through donations.
Daniels also made a call for all like-minded civil society organisations to collaborate with the GNYC to educate voters. "…We are calling on all youth arms of political parties to conduct voters education… we call on the political parties to set an example for young people… and encourage their youth arms to promote voters education," she said.
"The time for collaboration is now. The time for us all to work together is now," she added.
The ruling PPP has criticised Gecom for joining with the GNYC to encourage youths to vote. The party indicated that the alliance reeked of American interference via the LEAD project.
Speaking at the launch yesterday, Glen Bradbury, Chief of Party of the USAID LEAD project, said it was important for youths to get involved in the political process and become more aware of the electoral system. He stated that in Canada there is always a low turnout of youths in national elections, with 20% of the youths showing up.
"I wonder sometimes that they are not fully cognisant about what voting is or if they lead such active lives that they don't have the time to vote," Bradbury said, before asserting that the youths were the "vanguards of change."
"It is important at this young age for everyone who becomes eligible to vote to go out and vote, to ask questions of individual seeking your vote and support. You shouldn't blindly support anyone, you should take the effort to know why it is important to go and talk directly those who are seeking public office and to express yourselves as to what you need as youth," he stated.
Bradbury added that when people refuse to vote they abrogate the responsibility to see change or development in their country. "You are also betraying yourself because if you do not vote you don't have a right to complain about anything. You surrendered that right," he said.
He asserted that if someone wants to see a policy reflecting their interest, they should inform the individual seeking public office what they want from them. "If you don't get involved, others would make the decisions for you," he added.
Bradbury also said that USAID LEAD was happy to lend support to the GNYC campaign. "We hope that youths will learn the importance of voting and go out and vote on elections day… don't downplay what you have to do," he said, calling on them to hold political leaders accountable.
Board member of the GNYC Francis Bailey also stated that Guyana belongs to its youth and therefore they should have no fear of victimisation or intimidation about voting.
He said those with the ink on their fingers are the bosses, not the political leaders.
Chairman of Blue CAPS Michael Leonard stated that the social change group fully supports GNYC and its campaign. He also insisted that youths play an important role in shaping the future of a country.
"We do have the power to install governments and remove them. A lot of politicians on the campaign trails like to say they want to give power back to the people and they want to return power to the electorate. The only challenge is they can't return to you what you already have," he said.
"The only way you can exercise that power is by voting. If you like what you see, exercise your power to keep it that way. If you don't like what you see, exercise your power to change it," he said.
Around the Web