Well-known caterer and historian of the Chinese movement in Guyana, Margery Kirkpatrick passed away yesterday at the Caribbean Heart Institute (CHI) located in the Georgetown Hospital Compound.
She was 76 years old.
Her husband and best friend, Dougal Kirkpatrick, to whom she had been married to for 44 years, told Stabroek News that she died some time after 2 am yesterday.
He explained that last Monday his wife went to bed, but woke up sometime during the wee hours of the morning with complaints that she could not breathe. She was rushed to CHI and was admitted and being treated until the time of her demise.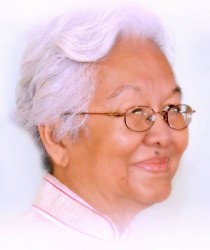 Reflecting on the years he spent with his wife, he described a woman who had a passion for life and loved giving to the needy.
"She was the kindest person I know and loved dedicating her time to charity…my wife did so much charitable work that many persons don't know about because she didn't speak of the things she did for anyone," he said.
He reflected on his wife's musical skills informing that she played both the piano and organ but equally loved to sing.
As a pastime hobby she tended to her orchids and loved gardening and animals.
Margery Kirkpatrick spoke no Chinese and had only been to China once, in November of 2012, but she was always proud of the contributions her ancestors made to the building of Guyana.
She was the Deputy President of the Chinese Association here for many years until her resignation from the post last year.
In 2012 she wrote an autobiographical account of growing up in British Guiana. The book, The Way We Were – Memories of a Childhood in British Guiana, chronicles the Chinese experience in the then colony, through the eyes of Kirkpatrick, a third-generation Chinese girl growing up in the mixed society of the 1940s.
"I was motivated to write this book for a number of reasons but foremost is that when I look around and see what is happening to our youth and breakdown of the moral fibre, I wanted to show them, to give them something that they can look to and say this is how it was and this is how it could be… how the then society, as a whole, played a role in helping each other, without a care of race, class or wealth and acted like a big family," Kirkpatrick had told this newspaper.
The mother of three, two daughters and a son, also loved family and was meticulous in the bringing up of her children and also played a role in the lives of her two grandchildren.
She will be cremated on Tuesday, following a church service at the St Saviour's Church, located on Saffon Street, where she was a member.
The church service begins at 3 pm sharp.
Around the Web