Police yesterday continued to comb the area where the body of schoolgirl Alicia Alli, 15, was found in hopes of finding out more about her death, Crime Chief Leslie James said.
In addition, a male friend of the girl was contacted by the police and is being questioned. A note was also said to have been found during a search of the girl's apartment but the contents were not released.
The police are waiting on a post-mortem examination, expected to be performed today, to learn the cause of the girl's death.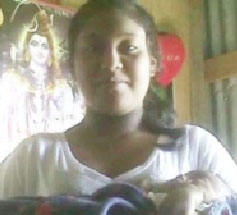 The nude body of Alli, a Third Form Campbellville Secondary School student, was discovered on Wednesday at the seawall near Turkeyen.
After the discovery, Alli was later identified at the Lyken Funeral Parlour by her mother.
Stabroek News was told by a friend of the teen's mother that the girl was sent to buy bread at a nearby shop at about 7 PM on Tuesday. But after she did not return, her mother began a search with the help of neighbours.
A missing person's report was then filed at the Sparendaam Police Station and the body was discovered the following day.
A neighbour, who expressed shock at the discovery, noted that Alli was very friendly and would entertain friends at her home.
A relative said that they were not aware of any problem that the girl had with anyone as they continued to question why anyone would want to hurt her.
The distressed man said the girl's mother worked very hard and was singlehandedly raising her daughter after her father died about five years ago. He noted that the woman would spend all her money to ensure that the teen's needs were being met and to pay the rent for their apartment. "That lady does work hard and right now it very difficult on her because she even finding it difficult to find money to bury her daughter," he added.
Around the Web