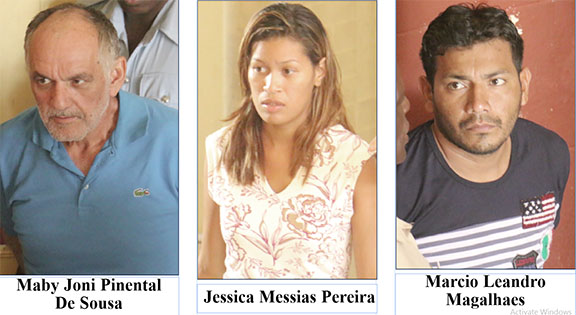 Four Brazilian nationals, including a man identified as a pastor and a 14-year-old, were yesterday charged with possession of cannabis for trafficking after police stated that they were intercepted with over 3 kilogrammes of the substance at Lethem last weekend.
Maby Joni Pinental De Sousa, 52, said to be a pastor, Marcio Leandro Magalhaes, 28, and Jessica Messias Pereira, 21, pleaded not guilty to the charge that was read to them by Chief Magistrate Priya Sewnarine-Beharry at the Georgetown Magistrates' Court 1. The teen was charged separately and the proceedings were held in-camera.
According to the allegations presented to the court by Prosecutor Bharat Mangru, while conducting a routine search at Lethem on March 28th, the police stopped the vehicle in which the four were travelling and proceeded to conduct a search.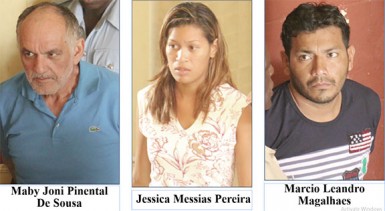 Mangru said the search uncovered four transparent bags, which were said to have contained seeds, leaves and stems suspected to be cannabis. The bags, which were wrapped with scotch tape, were allegedly found under the driver's seat of the Brazil-registered vehicle. The contents of the bags were weighed and amounted to 3.3 kilogrammes.
Additionally, a purse containing 5,000 Real, allegedly belonging to Pereira, was also discovered in the vehicle.
Mangru said the travellers were the told of the discovery and they denied having any knowledge about the drugs. They were then taken into police custody.
However, their attorney told the court that they had left the vehicle unlocked while they went about doing their weekly shopping in Lethem. When they returned, they saw nothing unusual and they were proceeding to drive back to Boa Vista when they were stopped and searched.
The lawyer said her clients claimed to have never seen the bags containing the cannabis. She insisted that De Sousa, Magalhaes and Pereira would return to court for trial as they were anxious to clear their names.
However, Mangru objected to bail on the grounds that the three adults had no ties to the country and the likelihood that if released they will not return for trial.
After hearing the arguments presented by the prosecution and defence, the Chief Magistrate refused bail and transferred the case to the Lethem Magistrate's Court for June 1st for trial.
Around the Web