H. Nauth and Sons Civil Engineering Contractors is prepared to begin rebuilding the Eastville Housing Scheme bridge, which collapsed on Wednesday under the weight of a heavy duty truck belonging to the firm.  On Wednesday, the main bridge into the community at Annandale caved in under the weight of a heavy-duty truck loaded with sand. The truck was transporting the material to build the neighbourhood's access road. The road project is being undertaken by the Ministry of Public Works.
A source at the firm told Stabroek News that it will commence reconstruction of the bridge as soon as materials are purchased. The source stated that the bridge will be made of wood and that a design provided by the Public Works Ministry would be followed.  The collapse of the bridge left many residents incensed as some of them complained that they were unable to get their vehicles into the community and had to park their cars on the road.
H. Nauth and Sons on Wednesday provided five security guards and floodlights to protect the vehicles parked on the roadside. The source signaled that the security measure would continue for those residents who did not have anywhere to park their vehicles.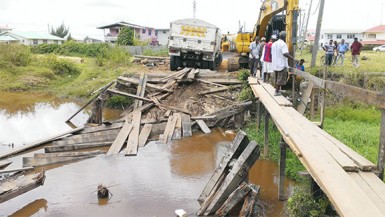 When Stabroek News visited the site again yesterday, an excavator was seen lifting parts of the collapsed bridge out of the canal. The truck was already removed and contractors were seen setting up poles in the trench to build a pedestrian walkway for residents.  A source at the Public Works Ministry stated that engineers were still investigating why the bridge collapsed. The source said the weight of the material and truck combined was not yet calculated but they had considered the age of the bridge, which is over 15 years old.
Contractors were given up until 3PM yesterday to finish constructing the pedestrian walkway because the make-shift one set up on Wednesday evening was not "safe" since it was constructed over a Guyana Water Incorporated water main.
"We don't want any further accidents," the source said.
Around the Web