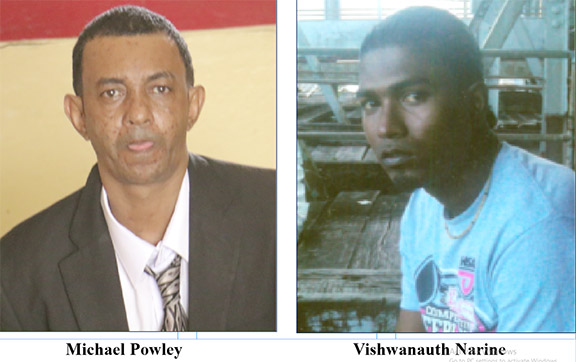 Michael Powley, on trial for the murder of Vishwanauth Narine called, "Buddy," at Plastic City in 2012, yesterday declared his innocence and said he was trying to protect his wife from the now dead man on the day of their fatal encounter.
Powley made the disclosure after he opted to give an unsworn statement from the prisoner's dock at the High Court yesterday.
He had been earlier called on to lead a defence to the charge that he murdered Narine, after Justice James Bovell-Drakes overruled no-case submissions made by his attorney, Basil Williams.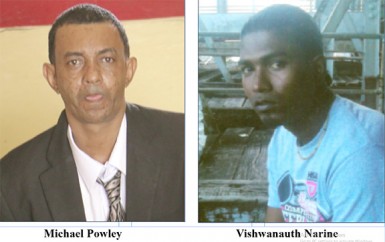 "I am innocent of this crime, sir. Me nah jook Buddy. I din kill Buddy," a visibly distressed Powley told the judge. According to the accused, on June 8, 2012, at Plastic City, West Coast Demerara, he heard someone cursing and decided to investigate the source. It was then, he said, that he saw Narine, who was clad in only his underwear holding onto his (Powley's) wife's hand.
The man said he told Narine to let go of his wife's hand, at which point Narine began cursing and telling him he would "chop" and "kill" him.
Powley said at that point, Narine, who was armed with a bottle, was still holding his wife's hand and was chucking her. As a result, he said he armed himself with a piece of wood and ran out of the yard to his wife's aid.
The accused, who said it was raining at the time, added that he slipped and fell in the mud as he neared Narine, who by that time had chucked his wife to the ground.
The man said after falling, he and the deceased had a fight on the ground and as he looked up; saw three of Narine's friends, who said, "We get hay today and we gon chop and kill he."
"I loose Buddy and run away," the accused said.
The matter has been adjourned to April 8 for addresses from the prosecution and defence, after which the Judge will sum-up the case, and hand it over to the jury for deliberation and a verdict.
The state's case is that Powley and Narine had an argument that led to a fight and Powley began running Narine. It is alleged that after Narine fell, Powley fatally stabbed him.
The case is being prosecuted by attorneys Natasha Backer and Narissa Leander.
Around the Web