The labourer who was found at the home of Samantha Benjamin, the Buxton woman who was dismembered and dumped into the ocean, has confessed to killing her, according to a reliable police source, who says a murder charge will likely be read in court as early as tomorrow.
Stabroek News was told that the labourer had told the police two others helped him to murder Benjamin. The police are currently looking for the two men based on the description they received.
The labourer is alleged to have killed the woman because he wanted to rob her and dismembered her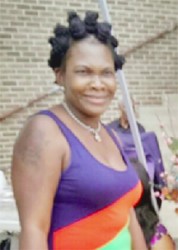 corpse in order to make it difficult to identify her.
Meanwhile, a woman who was in custody after the police found Benjamin's phone and laptop at her home in Bent Street has been released. The woman, who is a friend of the labourer, did not know the items belonged to Benjamin.
A resident, who had been paid to dump the body at the foreshore, has also been released. The resident was not aware that it was human remains he was dumping, since he would usually dump chicken carcasses, this newspaper was told.
Benjamin was a United States citizen and proprietor of a boutique in the Vendor's Mall on Water Street. Her estranged husband positively identified her remains.
The woman's dismembered body was found at the Annandale foreshore on March 26. The head, legs and arms were found later at the foreshore after the water receded at about 12:10 PM the same day.
Benjamin had moved out of her husband's home because they were having relationship problems. Her husband said he had not seen his wife since then but they would stay in touch via phone.
A relative of Benjamin told Stabroek News that when he visited the home in Buxton, dried blood looked like it had been trickling down the beams. Blood was also between the grooves of the floorboards.
While leaving the premises, the relative encountered the labourer and asked about the blood. The labourer told him it was cutex.
Around the Web