Facing dwindling water supplies as a severe drought continues to grip the Rupununi, indigenous communities in the area are growing increasingly concerned and government yesterday announced that tractors and trailers with water tanks will be dispatched to the remote villages to provide water.
Cabinet Secretary Dr Roger Luncheon, at his post-cabinet press briefing, described the state of affairs as "seasonal" but some residents warned that the situation was approaching levels not seen since 1998 when a state of emergency was declared because of the drought as a result of the El Nino phenomenon in that year.
Creeks, rivers, pools, wells and other sources of water were dry and only a few had very low levels of water, Stabroek News was told. Stabroek News first reported on the situation last month, when a number of indigenous leaders from the area had expressed concern at the rapidly declining water levels.
The mainly indigenous villages in the sprawling savannah region depend on untreated water from rivers and wells for drinking and other domestic uses as well as for crop irrigation.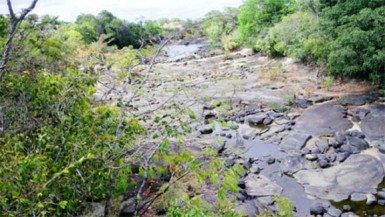 "We got to fetch water for about two miles," Elliot Fernandes, a farmer of Karaudarnau told Stabroek News yesterday. "River, creek, everything get dry." He explained that he normally gets water from a stream close to his farm in the jungle but it has dried up and he and other farmers now use a watering hole some distance from their farms as it is the only one that has not dried up yet.
He said crops were dying out, including cassava which is used for making farine, the main staple used by indigenous communities in the Rupununi. "The cassava sticks want to die now…the plant dying out," he said. "The sun hot too much." His statements were echoed by several other residents who said the cassava tubers were turning "husky" due to the lack of water and warned that if the rains do not come, food scarcity would increase.
Fernandes said even the animals are being affected. Recently monkeys entered his farmhouse, which they would not normally do. According to him, they were in search of water, but they also ate some of his produce stored inside.
Residents in the community also rear cattle and the animals, due to the drying up of creeks and pools, have gone further away from the village in search of water, Stabroek News was told.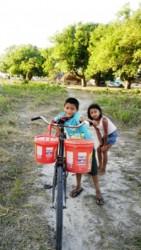 The Rupununi River at Karaudarnau has stopped flowing and only pools remain, another resident said. Some of the pools are drying out and, in others, moss has started to grow and some are stagnant. Many residents use the water from the river for domestic purposes, while some drink from it. According to one resident, they have not seen the water at such low levels since the severe drought in 1998. "And it (the water level) is still going down," the resident said.
In Karaudarnau, the people in the central part of the village are dependent on one pump for drinking water. "The water situation is really bad," the resident added.
Meanwhile, Luncheon said yesterday that Cabinet is monitoring the "low seasonal levels of rainfall" which is affecting Region Nine, parts of Region One and wide expanses in north-eastern Brazil. "Following the low levels of rainfall came drought associated with the low levels and access of water, potable water for households, water for irrigation, for agriculture; came a resurgence in pests…that were attacking what little crops that remain," he said.
Luncheon related that the Guyana Water Incorporated has commented that "the wells had all dried up." "…Indeed, the water table was so low that shallow wells were at this point inaccessible, they were not providing, they couldn't get to the low levels of water in the aquifers and so they were of no benefit to the communities where these wells were," he reported.
Luncheon also said Cabinet has instructed the Civil Defence Commission (CDC) to coordinate responses that would be led by the Ministry of Amerindian Affairs, and include several ministries. He said based on a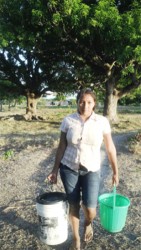 report, "it would seem that the fundamental intervention would be sourcing water" from various sources, such as rivers that are still flowing. The water would have to be transported in tanks via tractors and trailers to the surrounding areas and provide water to households and farms, he said.
The Cabinet Secretary related that the situation is anticipated to continue as long as there is no rainfall and the distribution of water to villages and areas surrounding accessible water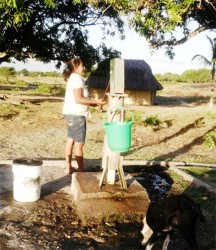 sources would have to continue for that duration of time. He said that he was not aware of any predictions by the Hydromet Office as to the duration of "this seasonal low rainfall."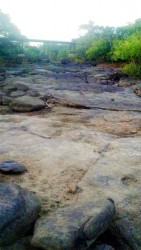 Around the Web