The Ministry of Housing and Water on Thursday allocated 153 house lots at Ondeerneeming Sand Pit, Essequibo Coast in keeping with the theme  'Live the Guyanese Dream-Home Ownership Made Easier'.
The eighth one-stop shop was held at Anna Regina, Essequibo Coast.
Alli Baksh, Minister within the Ministry of Agriculture who stood in for Minister of Housing and Water Irfaan Ally sang the praises of the Minister who,  according to him, made the vision of the one-stop shop a reality.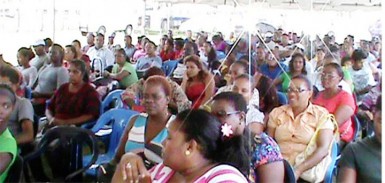 "There is no problem for house lots in the Region only the geographical location of the areas. I encourage all allottees to make use of your lots and use your transports to access low income loans from the banks to construct your homes."
Region Two Chairman Parmanand Persaud contended that the government is making life better for Essequibians by allocating more house lots in the Onderneeming housing scheme.
"The intention of the government is to expand in the housing sector and give people more lots to construct their own homes.
Government is not selling the house lots as said by the opposition APNU/AFC. The  allottees are getting the lots at a subsided cost because government has to spend large sums of money to develop the housing areas in terms of drainage, roads, potable water, electricity and survey. I also want to congratulate the Ministry of Housing and Water for holding the one-stop shop in the Region."
CEO of the Housing Ministry Myrna Pitt told allottees that the housing sector continues to grow around the country but more so in Region 2.
"Already in Region 2 more than 3,500 lots were allocated in nine areas and the Ministry of Housing is considering applications for the 2014 – 2015 period. The theme under which the house lots are allocated is appropriate to the fact that home ownership is one of the most important  decisions that anyone can make in the course of his or her life.
It is the business of the Housing Ministry in ensuring that it becomes easier for the average Guyanese citizen to achieve that dream."
A large crowd gathered in hopes of being recipients of house lots.
Around the Web