National footballer and Alpha United member, Manasseh Primo was last week busted in the United States for allegedly attempting to smuggle cocaine into that country in pellets which he had swallowed.
According to Special Agent Donald Farrier, it was Primo's nervous attitude which alerted customs officer that something was wrong and upon further questioning he admitted that he had swallowed the pellets.
Court documents seen by this newspaper said that on June 11th Primo arrived at the JFK International Airport aboard a Caribbean Airlines Flight from Trinidad. He was approached by a customs officer for a border enforcement examination. He presented a suitcase for inspection during which he stated that he entered the US to visit family members and play in a soccer tournament.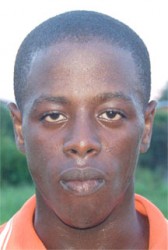 "The defendant stated that he did not know where his family lived or (where) he was going to meet them. During the examination, the defendant appeared increasingly nervous and could not keep eye contact with the CPB officers," Agent Farrier said.
However, a search of the baggage was completed with negative results.
Primo was then escorted to a private search room and a pat-down search was completed but again that turned up negative. He continued to appear nervous and could not articulate details about his trip or a previous trip to the US. He was further grilled by the officers and he then admitted to swallowing pellets of drugs. The footballer was transported to the JFK medical facility and there he passed one pellet in the restroom. The pellet contained a white, powdery substance, which field-tested positive for the presence of cocaine. He then signed a consent form and an x-ray was taken of his intestinal tract. It showed that foreign bodies were located inside the defendant's body.
It is not clear how much the cocaine amounted to from the pellets that were subsequently excreted by the man.
Primo has since appeared before Magistrate Judge Vera M. Scanlon with court-appointed attorney   Michael Schneider. He was remanded to prison. Primo is the latest of dozens of Guyanese who have been held at JFK for drugs after disembarking flights.
Around the Web