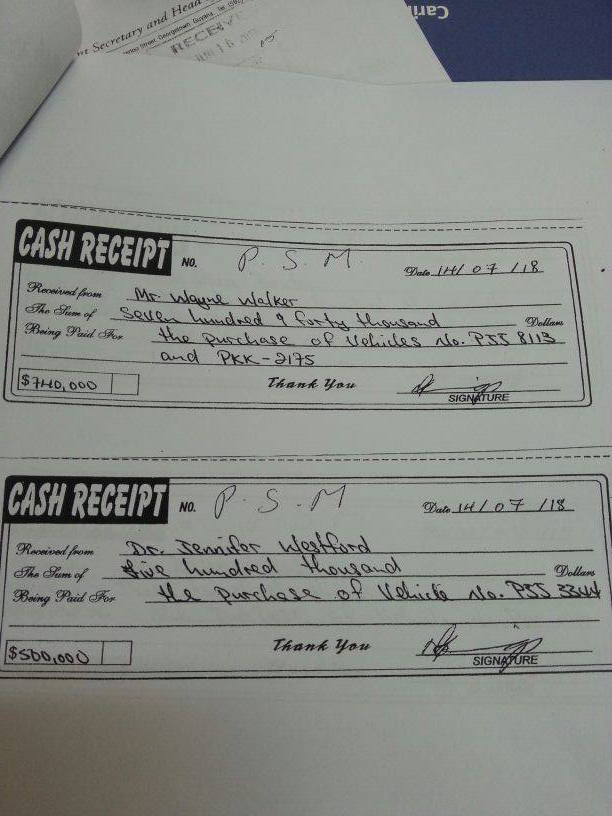 Former Public Service Minister Dr Jennifer Westford who is ensnared in a police investigation involving vehicles that were to be transferred to her and persons close to her after the May 11 general elections, yesterday declined to comment on the matter saying that she was media-shy.
Westford was named by President David Granger last Friday as one of the persons embroiled in the fraudulent act. Westford and her spouse are two of the five persons into whose names at least eight state vehicles were being transferred. The uncovering of the scheme has prompted a police investigation.
After she was named by Granger, Stabroek News made numerous attempts to contact Westford but several calls to her number went unanswered. A woman later returned a call and after inquiring who was calling, advised that contact be made in another hour since Westford was in a meeting. Stabroek News subsequently placed several calls to her number but these went unanswered. A text message was then sent explaining that a comment was being sought with respect to the allegations being made against her.
Westford responded by text yesterday apologizing for not answering her cell phone. The former minister said "as you know I am not a media person" and added that she hoped Stabroek News will "carry the story when the truth to these alligations (sic) surfaces."
Stabroek News made more attempts yesterday to contact the former minister via phone calls and text but there was no response.
The investigation continues and it would appear that fake receipts were written to show that the vehicles were sold almost a year ago to five persons including Westford and her spouse. The crafters of the scheme only decided to seek a transfer of registration for the vehicles on May 18. There are suspicions that no money was ever paid for the vehicles.
Westford is a senior member of the PPP/C and at least one party official is distancing himself from her and the scandal, saying that he wants no part of what she has gotten herself into. The official labelled it as wrongdoing and said that it is something that should be handled by the police.
Two ministry employees have been sent on immediate leave to facilitate the probe. Stabroek News has seen several documents linked to the scheme, some of which have been handed over to the police to assist in their investigation.
In one document dated April 14, 2015, which was addressed to Khurshid Sattaur, Commissioner General of the Guyana Revenue Authority (GRA), a request was made for a transfer of registration for eight vehicles to Westford, Wayne Walker, Delroy Lewis, Gary Beaton and Osbert Mc Pherson.
Based on the stamp on the letter, it was received by the GRA on May 18, 2015. The letter stated that the vehicles were either registered in the ministry's name or were in use by the ministry but were sold.
A change of registration for two vehicles for Walker was sought; one for Lewis; one for Westford; three for Beaton, said to be Westford's husband, and one for Mc Pherson. The letter was signed by Margaret Cummings for Hydar Ally, the ministry's permanent secretary. Cummings is one of the persons sent on leave.
According to the documents seen by Stabroek News, receipts were backdated to make it appear as though monies were collected for the sale of the vehicles on July 18, 2014.
This newspaper saw cash receipts for four of the five persons. $740 000 was reportedly collected from Walker as payment for two vehicles; $500, 000 from Westford for the purchase of one, $2.1 million from Beaton for three and $300,000 from Lewis for one.
On May 29, Ally wrote to Westford requesting assistance in locating six vehicles which were either owned or loaned to the ministry and another which was purchased from the Rudisa Motor Company for $9 million.
Based on what has been uncovered, of the four vehicles owned by the ministry, two were reportedly sold to Walker and one to Beaton. The fourth vehicle is believed to be the one that was to be transferred to Westford as documents show a variance in the letters but similarity in the numbers. Of the two loaned, one is linked to Beaton and the other to Mc Pherson.
Ally in his letter to Westford also sought her assistance in locating a $9 million Kia Sorento bought by the Ministry in August 2013.
Stabroek News was told that the entire scheme was unearthed when Sattaur wrote to Ally on June 10, 2015 requesting that he reissue the letter requesting the vehicle transfers. Sattaur wrote that the GRA "has the policy of not granting requests for transfers occurring before the new government took office, unless a letter is issued during the current administration." Granger was sworn in as president on May 16.
In a June 15, 2015 response, Ally wrote, "Please be informed that the request for transfer of the vehicles as listed in letter of April 14, 2015 should be withdrawn. I further wish to advise that to the best of my knowledge no documentation relative to the sale of the said vehicles had been seen."
Some of the vehicles are said to be high-end. One of the women sent on leave is also said to be related to Westford.
Around the Web