A Bartica businessman was yesterday charged with misappropriating $120 million given to him to purchase gold when he appeared in the Georgetown Magistrates' Courts.
Eon Ferreira, 34, of Lot A-4 Second Avenue, Bartica was refused bail, after he appeared before Magistrate Ann McLennan, on a charge of fraudulent conversion.
Ferreira was not required to plead to the indictable charge against him which stated that between June 22 and 28, at Bartica, being solely entrusted by Nazar Mohamed with $120 million, to purchase gold, he fraudently converted it to his own use and benefit.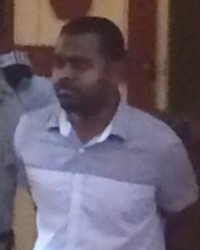 His attorney made an application for bail to be granted while noting that Ferreira has an unblemished record and is not a flight risk, but rather is ready to follow any conditions placed on him by the court.
Ferreira's attorney explained that because of the nature of his job he would usually buy gold from small miners and apart from him denying the allegation, he would normally purchase raw gold from Mohamed from time to time, something which has been an ongoing arrangement for the past six years. It was further explained, that what had transpired was that recently the price of gold dropped and Mohamed was using the accused as a scapegoat for the difference between the fixed and fluctuated price.
The defence attorney also noted that while his client was arrested at the Bartica Police Station, he had in his possession $67 million which was taken away from him by Mohamed and he was also threatened. Ferreira, according to his attorney, has been in custody since Sunday and has not yet made any statements. He concluded that the allegation was wholly malicious and was just an attempt to abuse Ferreira.
Meanwhile, the matter was prosecuted by attorney Latchmie Rahamat who was granted permission by the Director of Public Prosecutions (DPP). Rahamat objected to bail based on the nature, gravity and seriousness of the offence and also the quantum of money involved.
She explained that when Mohamed went to collect the gold from Ferreira he was unable to supply it. A report was made to the police and Ferreira was subsequently invited to visit the station but he refused to do so. Rather police officers had to visit his business place and arrest him. Rahamat also said that while he was being investigated for this matter another person showed up at the police station and complained that Ferreira took over $60 million from him and never returned it.
She concluded that the prosecution feared that not only would the defendant tamper with the prosecution witnesses if granted bail but he was known to be a flight risk.
As a result the matter was transferred to the Bartica Magistrate's Court for July 3.
Around the Web