Three months after a criminal complaint was filed against him, former Health Minister Dr Bheri Ramsaran was charged yesterday with using insulting language against rights activist Sherlina Nageer.
Ramsaran, 55, pleaded not guilty to the charge when he appeared before Magistrate Charlyn Artiga at the Whim Magistrate's Court and he was released on self-bail.
Ramsaran is accused of making use of insulting language to Nageer on April 20th outside of the Whim Magistrate's Court, in a manner likely to have occasioned a breach of the peace.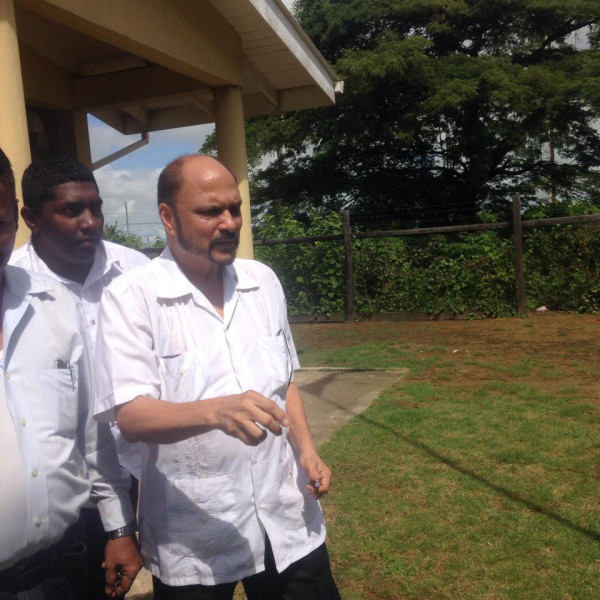 Ramsaran had journeyed to the Whim Magistrate's Court to show his support for former president Bharrat Jagdeo, who appeared to answer a private criminal charge. He was recorded verbally abusing Nageer, saying he would slap her for the fun of it and have her stripped in a public place.
During the arraignment yesterday, Ramsaran's attorney Adrian Anamayah requested that his client be released on his own recognisance since he is a public figure, has been cooperating with the police and would be attending all hearings during the trial. This application was granted by Magistrate Artiga after acting police prosecutor Sergeant Eon Welch indicated that he had no objections.
An application was also made for statements to be used by the prosecution to be handed over to the defence and it was granted.
Anamayah told the court that Ramsaran believes that Nageer was the one who has committed an offence rather than his client and they would be exploring options to have the police institute charges against her, if possible.
The matter was adjourn-ed until September 21st.
In an invited comment out of court, Anamayah told reporters that the charge seems to be politically-motivated and he called it an attempt to embarrass his client.
Unlike Jagdeo, Ramsaran did not attract any supporters outside of the court. He was, however, accompanied by former Member of Parliament and National Communication Network (NCN) Berbice head Fizal Jafferally.
Nageer, who is the complainant, was not present at court yesterday.
She had made a report to the police a week after her confrontation with Ramsaran. The confrontation occurred after the minister labelled attorney Christopher Ram a "wife beater" while being interviewed by reporters. Nageer interjected and proceeded to confront Ramsaran about the deaths of women and children in the health care system under his watch.
At this point Ramsaran could be heard calling Nageer a "piece of shit" and an "idiot" before asking her to get out of his face.
After the recording of the exchange between the minister and Nageer began circulating in the public, Ramsaran issued an apology, in which he claimed to have been provoked into anger and to have uttered harsh words which he regretted. However, the day after, the minister was recorded at a health forum calling Nageer a "miscreant," accusing her of spitting on him and saying she was in need of psychiatric help.
In her statement to police, which was filed on April 27th, Nageer said that at one point during the confrontation she felt threatened by Ramsaran, as it appeared as though he wanted to hit her.
On the heels of condemnation by the western missions and local civil society organisations, then President Donald Ramotar fired Ramsaran.
Members of the then ruling PPP/C had spoken out against him although a party statement argued that his actions were blown out of proportion.
Ramsaran's arraignment came a day after former Public Service Minister Dr. Jennifer Westford was charged for her alleged involvement in a vehicle transfer plot. The PPP afterward said that it had taken note of the pressure being put by the government on the Director of Public Prosecutions (DPP) to charge its members as well as the courts and the police being used to persecute. The DPP's Chambers has since denied the claim, stating that in addition to it being an independent office, its recommendation of criminal charges is based on statements contained in police files and the law.
Ramsaran like Webster has been included on his party's list of Members of Parliament.
Around the Web