South Korea's non-resident Ambassador to Guyana, Maeng Dal Young, says during his tour of duty, a great deal of emphasis will be placed on the expansion of commerce and investment.
This commitment came moments after he presented his Letters of Credence, to Head of State, David Granger, at the Ministry of the Presidency on Wednesday.
"I hope in my small way that I may contribute to the continued stimulation of such an encouraging mood in both Korea and Guyana, resulting in the realisation of a productive partnership between us," the Ambassador said, according to a release from the Ministry of the Presidency.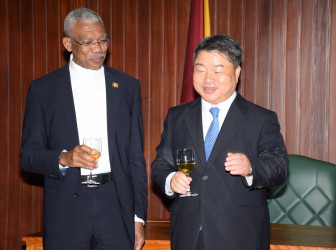 He added that it is his Government's vision to develop South Korea's new cooperation projects with Guyana, since South Korea is well-placed to meet the needs of the Guyanese people.
Meanwhile, President Granger, as he accepted the Letters of Credence, spoke about the fruitful relations between the two countries, both at the bilateral and multilateral levels. "Our government, since its assumption to office, has placed increased emphasis on the advancement of economic diplomacy. We therefore welcome all opportunities, including those related to the expansion of commerce and investment," Granger said, according to the release.
Granger noted that in order to realise the expansion, it is necessary for both countries to utilise the existing 2006 Guyana-South Korea Agreement on the Promotion and Protection of investments. President Granger also lauded the South Korean Government for the technical assistance offered by the Korea International Co-operation Agency, under which Guyanese have benefitted from scholarships.
Around the Web