A Nigerian man, who admitted to swallowing over 245 grammes of cocaine in hopes of funding a trip overseas, will be spending the next four years in prison.
Emeka Solomon, 32, of 141 'B' Field Sophia, was jailed after he pleaded guilty to two charges of possession of cocaine with intent to traffic.
It was stated that on September 9, while at his residence, Solomon had 91.5 grammes of cocaine in his possession.
The second charge stated that between September 9 and September 15, at the Georgetown Public Hospital, Solomon had 245.6 grammes of cocaine in his possession.
Solomon was sentenced to four years for each charge but the sentences are to be served concurrently. He was also fined $82,350 on the first count and $663,120 on the second count.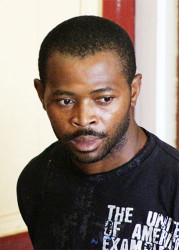 Camille Solomon, the man's wife, began sobbing quietly in her seat when the sentence was passed by Magistrate Ann McLennan.
Although Solomon was represented, his lawyer, Motie Singh, was not present when his client pleaded guilty to the charges read. Singh explained to the court that there had been a mix-up and he had believed the case would be tried at the Sparendaam Magistrate's Court.
Nevertheless, Solomon's attorney pleaded with the court to institute the minimum sentence on his client, while stating that the man is the sole bread winner for his family, which includes a nine-year-old child.
Singh said his client had been a victim of circumstance and noted that he had been cooperating with the police during the course of the investigation.
When Solomon was given a chance to explain, he said he had been having problems financially and could not even afford money for rent. The man went on to state that he had wanted money to fund a ticket to Amsterdam and another Nigerian had offered him help. Solomon then recalled that his acquaintance had inquired about whether he had ever "swallowed" before.
Solomon related to the court how the man instructed him to ingest the narcotics, then admitted that he had swallowed several pellets, each worth 30 grammes.
Deniro Jones, the case prosecutor, told the court that on the night of the cocaine bust, the police had gone to Solomon's Sophia home after receiving information from an unnamed source. He related that a search was conducted in the man's presence and a zip lock bag containing cocaine pellets was found under the sink. It was stated that Solomon admitted to ownership of the narcotics, then told the police he was in possession of more pellets that he had swallowed. The man was then taken to the hospital, where he excreted 16 pellets, weighing 245.6 grammes.
Jones reported that further investigations were carried out and the other person implicated in the matter is currently in police custody.
Around the Web