At 93, Ismay Simpson is an exceptionally strong woman who still works every day as she has been doing all her life.
Simpson, known as 'Granny Maria' is a newspaper vendor, who aside from selling the dailies, does her own cooking and cleaning.
She is, quite possibly, the oldest newspaper vendor in Guyana.
The mother of four and grandmother of 72, refuses to stay inactive and insists, "Once I have the strength and health, I going to wuk." When Stabroek News visited her home she was swiftly going about her chores and washing dishes.
Asked about her husband, she laughed and said, "Husband? I never had one of them."
The independent wo-man started selling to take care of her young children. Travelling from George-town to the Mackenzie market to ply her trade as a vendor was her main job in sustaining her family. At that time she sold a wide array of products that included greens and newspapers.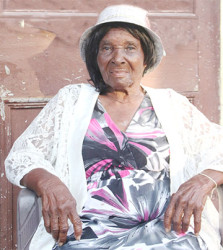 In 1957, she said, she decided to make a living of selling strictly news-papers. She eventually stopped travelling to Region 10 and started operation in Georgetown alone. This was after being employed at Georgetown Abattoir.
Her memory is as sharp as it ever was, as she talked about the differences between the newspapers of today as opposed to the ones of yesteryear. "It was cheaper back in the days. Yuh use to pay five cents for papers but now it expensive. I used to sell the Evening Post," she said. She recollected that former president Forbes Burnham used to visit the market and spoke of the love she had for him.
Flashing a toothless smile, she spoke of ham and eggs being her favourite food as well as her love of all food. Notwithstanding her unmonitored diet, she appears to be in good health and said she does not suffer from any aliments such high blood pressure or diabetes. Joking, she recalled hat in her younger days her mouth was adorned with lots of gold teeth, "but now I got no teeth," she ended with a hearty laugh.
Her day is fulfilled by doing what makes her the happiest, which is playing with her great great grandchildren.
Every day she sells 75 newspapers from different news agencies except on Sundays when she sells 200. She said business is good and there are regular customers who pass by her house on Russell Street.
Despite her busy schedule, she ensures that time is dedicated on Thursdays to attend Lodge in the afternoons after selling in the morning. The Lodge has been a major part of her life and even provided a home for her when she had to move from Pike Street.
Asked the secret to her longevity, she said there was none. But she did mention that some days she travels on her own to buy her newspapers because it keeps her fit and is part of the exercise she does which includes stretching and moving around. Most days, her son, Morty, who she lives with along with a number of her grandchildren, go for the papers.
Granny Maria has no intention of slowing down and says she will keep selling newspapers as this gives her a sense of satisfaction and feeling of independence.
Around the Web