Bibi Jagdeo yesterday testified that it was her husband, Roopram Jagdeo, who first hit Ravindra Paremdass, the man who is now on trial for his murder.
Bibi was at the time responding to questions under cross-examination from defence attorney Sonia Parag at the High Court, in Georgetown, where Paremdass is on trial before Justice Navindra Singh and a 12-member jury.
Paremdass has denied that he murdered Jagdeo, called "Lil Baby" and "Ribbit," between December 20th and December 21st, 2012, at Providence East Bank Demerara.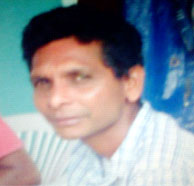 The state's case is that the accused and Jagdeo were involved in an altercation that caused Jagdeo's death. The altercation between the men stemmed from a row over a bicycle.
Bibi yesterday testified seeing her husband walk into their yard bleeding from his head, his right ear and nose. She said he then picked up a piece of wood and headed back out of the yard, where he dealt the accused a blow, after which he fell to the ground appearing unconscious for some three minutes.
According to the witness, she and her daughter, Cynthia Jagdeo, who was 14 at the time, ran towards her husband and pushed him back into the yard, where they tried to restrain him from going back onto the road.
She said she then left Cynthia and tried to push Paremdass further away from in front of their yard but was unsuccessful. The woman said she tried to summon assistance from the large crowd which had gathered in the neighborhood but no one went to her aid.
Police Inspector Philip Bowman had testified on Thursday that Paremdass admitted during questioning that he had hit the deceased to his head in retaliation, after the man had assaulted him.
Recalling Paremdass' admission during questioning, Bowman had told the court that after putting the allegation to him, the accused replied, "Is he lash me first, and I lash he back."
Asked by Parag if she would say that her husband attacked the accused first, Bibi replied, "Yes, I would say that my husband attacked the accused first."
She, however, denied that her husband was in the habit of consuming alcohol and that he was intoxicated on the fatal encounter.
"The accused was high," Bibi declared.
"How do you know that the accused was drunk?" Parag asked.
"Because he was walking and staggering," the witness replied.
Asked if it was the first time she had been saying that the accused was drunk and whether she had given that testimony in the Magistrate's Court, the witness said yes. "I din remember everything at the time, and I was confused," she added, while noting that she not confused any longer.
The witness told Parag that before the accused hit her husband, she heard him, [Paremdass] say, "He going to get revenge."
Asked if at all material times it was her husband who was going to attack the accused, Bibi responded, "I don't know about that."
Meanwhile, Cynthia, who also testified yesterday, said that she was unable to restrain her father. She told the court that she saw Paremdass run to their fence, dislodge a paling stave and charged towards her father. She said the accused dealt him two blows—one to his head, which caused him to fall, and another to his right ear.
She said that at that point her father remained lying on the ground as he continued to bleed and he was afterward rushed to the hospital.
During her cross examination yesterday morning, Cynthia complained of feeling unwell, at which point Justice Singh adjourned the matter to Monday morning at 9.
The state is represented by attorneys Teshanna James-Lake and Narissa Leander.
Around the Web