The badly decomposed body of Hyde Park taxi driver, Sherland Dalloo, 37, who was missing since last Monday was discovered at Onverwagt Backdam, West Coast Berbice around 8 am yesterday.
Reports are that some youth who were "catching iguana" saw the body floating face down in a trench, one and a half miles away from the public road, and raised an alarm.
One of the search parties that was scouring different parts of the country ever since his disappearance was in Berbice at the time when they received a call about the discovery.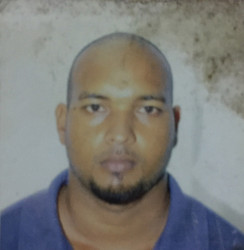 Dalloo's ex-wife, Alicia with whom he shared a close relationship and his older brother, Raymond, were among close relatives who travelled up to Berbice to identify his body at the Anthony's Funeral Home of Fort Wellington.
The grieving relatives are awaiting the results of the post-mortem examination to determine the cause of his death.
His silver grey Toyota 212 Carina has still not been found. Stabroek News was told that two men hired the car on Monday and he reportedly told other drivers that he "got a work to go to Back Road" in Georgetown.
His mother, Bhanmatty Dalloo, 55, told Stabroek News that her son, who was engaged in "special hire" services left home around 7:30 am on Monday.
She called him around 12:30 pm and asked him to go home for his lunch and he told her that he was in Georgetown. At 2:30 when she contacted him again he told her the same thing.
When she tried his number again at 5:30 pm though, there was no answer. Unable to sleep that night, she kept calling his number "the whole night."
The following day around 10 am she visited the Parika Police Station and reported him missing.
Ever since, search parties were launched and were scattered in different areas including Linden, Berbice, Santa Mission and Mabura, in a desperate effort to find him.
All of this, relatives said, was done without the assistance of the police. They had received information that the car was seen in Linden but after spending hours there they turned up empty-handed.
Alicia described him as a humble man. She said whoever did that to him was cruel and heartless and that he did not deserve to die like that.
She said it was hard breaking the news of his death to his children; Alex, 9, and Ashley, 7.
In tears, she said her children would now "have to live without a father." She hid his disappearance from them and had to find excuses about why they were not seeing him.
There has been an upsurge in carjackings of taxi drivers.
On Saturday carjackers traded shots with the police when their getaway was interrupted by members of an alert police patrol.
Although the two carjackers managed to relieve a Sheriff Taxi Service driver of his vehicle, a tracking device installed in the car later led to its eventual recovery in Number 40 Village, Berbice.
Stabroek News was informed that sometime around 2 am on Saturday the dispatcher at the service's base received a request for a taxi at the Prashad Nagar Police Outpost. Taxi driver Hardat Balgobin, who was on duty, went to the location to do the pick-up.
When he arrived, he picked up two men who requested to be taken to Sophia. While they were in the vicinity of the road between the University of Guyana compound and Cummings Lodge, one of the men brandished a gun and demanded that the taxi driver hand over his valuables. This newspaper was told that the taxi driver was struck to the head with the weapon and was later pushed out of the vehicle.
Around the Web