A man who stole a phone from former Minister of Education Priya Manickchand, while she was engaged in a food distribution exercise in Tiger Bay, was yesterday fined $50,000.
Daniel Wilson, 20, of 282 South Sophia, admitted that he stole Manickchand's iPhone 6, valued $282,000, on November 22nd, at Holmes Street, South Cummingsburg.
The father of one, who indicated to the court that he is a vendor, pleaded guilty to the charge when he appeared in a George-town court yesterday.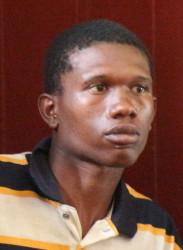 According to the prosecutor's report, on the day of the incident, Manickchand and her family had gone to Holmes Street, Tiger Bay, to feed the less fortunate after her son's birthday party. As the food was being shared, the defendant pushed his hand into her car and took the phone from a compartment in a door.
Manickchand's uncle, who had been seated in the back of the vehicle when the robbery occurred, raised an alarm, leading Manickchand's husband to chase after the assailant. Although he was unable to catch him at the time, Wilson was later apprehended by the police after a report was made to the Brickdam Police Station.
Wilson admitted to the court that he took the phone from the car and promptly apologised to "aunty Priya," while promising to never do such a thing again. He stated that he was in a bad place when the incident occurred and explained that he was ill, in a tremendous amount of pain and unable to work.
Magistrate Fabayo Azore reprimanded Wilson, telling him that the offence he committed was a serious one and one that has become prevalent. However, in determining a sentence, she considered a number of mitigating factors, including his age, the fact that he had a child to care for and that he had shown remorse for the crime. She, therefore, ordered that he pay a fine of $50,000 or spend 3 months in prison.
Around the Web