A Paradise, Essequibo Coast fisherman is alleging that he was beaten up by a police officer stationed at the Anna Regina Police Station, at Essequibo Coast.
Amar Zaban, 23, is now a patient at the Suddie Public Hospital. Police say his allegations are being investigated.
Speaking from his hospital bed, Zaban said the encounter occurred around 9pm on Wednesday night at a popular bar in Anna Regina.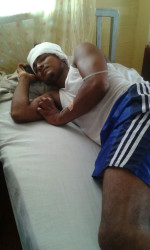 "Me and my next friend and a shop girl went stand up in front of 'Chico' shop drinking when the man come up and say that I must break off from the girl. I turn and tell he that I deh down deh drinking long and he must not come and violate. He keep rushing up to me, so I push him from in front of me. He tek a beer bottle and lash me in my head and I fall down but before I could get up he kick me and I get black out," he recounted.
The man said he lost consciousness while his friend picked him up and took him to the police station, where the matter was reported. He was then taken to the Suddie Public Hospital, where he was admitted after receiving several stitches to his head.
"This morning (Thurs-day) the policeman come and say he want to settle the matter but I gotta wait because I have to hear what my family say to do," Zaban noted.
Commander of 'G' Division Kevin Adonis yesterday confirmed that the altercation is under investigation.
Around the Web