Minister in the Ministry of Social Protection, Simona Broomes yesterday called on Chinese firms to obey Guyana's labour laws and ensure good practices to stave off xenophobia.
During a seminar held at the MovieTowne construction site at Pattensen, East Coast Demerara, Broomes and members of her ministry briefed six Chinese companies of the labour requirements in Guyana and what the consequences were should the laws be flouted. The workshop was held in collaboration with the Association of Chinese Enterprises in Guyana (ACEG).
"The Chinese will come here and work, establish their business, raise their families and respect the law and the rights of the people of Guyana so when we speak about the Chinese we must see best practices from you," Broomes said.
The minister stated that government wants Chinese investment and for Chinese investors to be successful within Guyana. However, she cautioned that good labour practices are not conducive with bribery. "What you are entitled to, you should not bribe to receive it, you should be able to operate in Guyana free. It is true you are honouring the law," she said.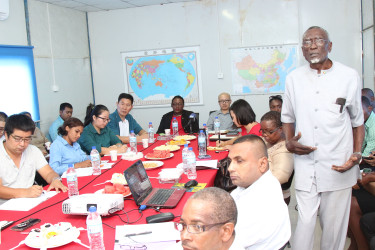 According to the minister, her ministry's first move will not be to the judiciary and the courts but to engage with companies. "Collaboration, communication, training and dialogue" is how she wishes to proceed when dealing with all employers in Guy-ana inclusive of Chinese companies, she said.
Upon the completion of the presentations by the ministry's labour consultant Francis Carryl and Assistant Occupation Health and Safety Officer Lydia Greene, representatives from Baishanlin and China Harbour Engineer-ing Company (CHEC) requested assistance for workshops to be conducted for their workers to which Broomes agreed.
Baishanlin General Manager and General Secretary of the ACEG Bailiang Chu said that he was pleased with the seminar and brought his Human Resources Manager, Director of Finance and another company manager to the seminar to ensure that the company could maintain good practices.
Kevin Liu, CHEC Project Manager for MovieTowne requested copies of all the labour laws inclusive of the Labour Act, The Termina-tion of Employment and Severance Pay Act, the Occupational Safety and Health Act, the Leave with Pay Act and the Factories Act.
In 2013, the then Ministry of Labour under PPP/C Minister Dr Nanda Gopaul presented the Chinese Association with translated copies of the Leave with Pay Act, Restaurants Act, Shops Act, Licensed Premises and Conditions of Employment Act.
CMC Guyana Transmis-sion Line Project Officer, China Railway First Group (Guyana), Standard Agro-forest and Rong-An-Inc were the other participants that attended the workshop.
Around the Web