The Women and Gender Equality Commission (WGEC) is very concerned about how victims of violence, including women, are being treated by the police force, according to commissioner Renata Chuck-A-Sang.
Chuck-A-Sang made this position known on Wednesday, when a press conference was organised by the Commission to coincide with the observance of International Day for the Elimination of Violence against Women.
Shortly after rights activists Zenita Nicholson committed suicide last month, it was revealed that she had gone to the Providence Police Station to report that she was abused by her partner but she was turned away. The rank who dealt with her complaint reportedly referred her to the Ruim-veldt Police Station, which was the station nearest to her home.
Chuck-A-Sang told reporters that the commission had previously engaged the highest level of the Guyana Police Force in relation to how it treats with domestic violence and gender based violence. She stressed that ranks have already received training in this regard. "They have been trained ad nauseam… but the response remains inadequate," she stressed.
Reporters were told of a case in Essequibo, where a mother and her physically-challenged daughter were raped but there was not much police action in the matter.
Asked what the commission is doing to tackle these lapses on the part of the police, Chairperson Indra Chandarpal noted that the commission's mandate does not permit it to intervene directly, given that it is a constitutional body. "We can only bring these matters to the attention of the authorities, which we have been doing all the time. We have been making recommendations. We are doing what we are supposed to do and then we also make referrals to places that they [the victims] can go for help," she said. "It is not that the police don't have the training, they do… but I don't know why there is this reluctance, sometimes, by some of the officers to act in a prompt way and that is something we have to deal with," she added.
'Women still dying'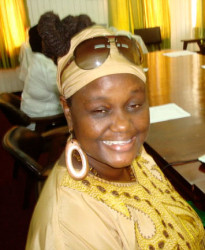 Meanwhile, despite the enactment of legislation to assist in protecting women from violence, there are still "bottlenecks" in the system, according Com-missioner Nicole Cole, who is adamant that the death toll will continue to rise unless they are rectified.
Cole, who herself is survivor of domestic violence, spoke of forging ahead and continuing to lobby the government and other stakeholders in the fight to eliminate violence against women.
Cole said the National Committee for the Prevention of Interpersonal Violence, which was established under the former government, should still function and this recommendation was raised during a meeting with President David Granger last month.
She told reporters that the committee was looking at 58 recommendations made at an Interpersonal Violence Conference in 2013. It was out of this conference that the committee was formed.
According to Cole, the same "bottlenecks" she encountered in 2002, during her difficult times, still remain today, "even though we have more robust legislation to protect women. It is all, to me, just on paper because, in actuality, women are [still] dying."
She drew attention to the case of Melissa Skeete, who died on Monday hours after she was allegedly stabbed repeatedly by her partner before being pushed out of a car. "It just cannot continue. Some-thing has to be done and this is why the advocacy and lobbying of His Excellency to ensure that the National Committee for the Prevention of Interpersonal Violence functions," she said.
Families too are being affected by the violence, Cole lamented. She said the recent case of the 13-month-old girl who was shot dead by her grandmother's jilted lover should not be forgotten as this case is testimony that "children are caught up in the violence." She made mention of two other children who were shot and injured during attacks perpetuated on one of their parents.
The WGEC, she said, has been doing a lot of work over the years. She alluded to the fact that since 2012, the commission has gone into schools in an effort to tackle the violence at that level. Additionally, billboards have been placed at strategic locations and while the commission wants to do more, those efforts are being hampered by the lack of finances. "We continue to lobby and fight where we can," she said, while adding that the commission has questioned what the laws that have been enacted really mean for women.
"Yes, we have the 1996 Domestic Violence Act. How much does it do in the protection of women and women really seeing it work for them?" she questioned, while stressing that there needs to be a change in attitude to say that "women rights are human rights. Women are human. To violate a woman is so serious."
Cole said there are countries which have taken a very serious approach to women being killed.
"We need to have the political will, I believe," she noted, while adding that if the committee was set up as was being pushed for and nothing is happening with it, then that is an indication that it is just "lip service."
"We need this committee to function and we need it to function as early as possible," she added.
Cole said the commission, though faced with a number of obstacles, cannot give up the fight. "We have to continue to lobby, we have to continue to seek the necessary resources and to partner with who will listen to us," she further said, while adding that "massive support" is needed to eliminate violence against women.
Around the Web