A St. Lucian national was yesterday sentenced to three years in jail and fined $1.2 million after he pleaded guilty to trying to smuggle 480 grammes of cocaine that he had ingested in pellet form out of the country.
Kendell Joseph, 26, yesterday claimed that he was told that he would not be able to leave the country if he did not swallow the cocaine.
Joseph was apprehended by officers of the Customs Anti-Narcotic Unit (CANU)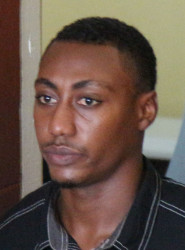 last Saturday at the Cheddi Jagan International Airport, Timehri. Joseph, who identified himself as a salesman, was in Guyana for the first time after being offered a job by another St. Lucian national and had been on an outgoing flight to London when he was arrested.
The defendant was later taken to the Woodlands Hospital, where he excreted 45 pellets containing 480 grammes of cocaine over the course of three days. According to the prosecutor's report, the defendant had submitted a statement, under caution, in which he admitted his knowledge of the narcotics.
Joseph said he had been forced to ingest the drugs and he claimed that he was told that if he did not do so he would not be able to leave the country. Magistrate Fabayo Azore stated that while this was unfortunate, Joseph would still be facing a sentence for the charge. The man was therefore fined $1,296,000, which amounts to three times the street value of the cocaine, and sentenced to three years in prison.
Around the Web