Baroness Patricia Scotland has been elected to be the next Commonwealth Secretary-General, making her the first woman that will take up the post.
"I am incredibly proud to be the first woman to be Commonwealth Secretary-General. I want to put the women's agenda firmly on the table and work with leaders, governments, local governments and other partners. I invite every Commonwealth citizen to join in making these aspirations a reality," the Baroness, who will be the sixth Commonwealth Secretary-General, was quoted as saying in a statement from the Commonwealth.
Baroness Scotland was unveiled yesterday as the Commonwealth Secretary-General Designate at the Commonwealth summit, in Malta.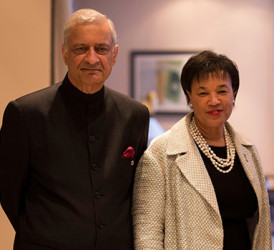 Her election at the meeting of the Heads of Government culminated a bruising two-year campaign, which saw her pitted against Antigua's nominee, Sir Ron Sanders. While she was nominated by her home country, Dominica, critics saw her as London's nominee as she is a peer and held a senior Cabinet position in the British government. This year it was the Caribbean's turn to nominate a candidate based on the principle of rotation. Sanders' nomination attracted support from the majority of Caricom countries but Dominica held steadfastly to its nominee and was reportedly supported by Barbados and Belize.
Guyana recently announced its support for Sanders though the six-month-old coalition government had taken its time on the decision. A third Caribbean candidate, Dr Bhoe Tiwarie, was withdrawn by Trinidad after the recent change in government there. Port-of-Spain then announced it was backing Sanders.
The Baroness was born in Dominica in 1955 and then moved with her family to Britain. She obtained her LLB in 1976, was called to the Bar in 1977 and was appointed Queen's Counsel in 1991. She received a life peerage and was created Baroness Scotland of Asthal in 1997. Baroness Scotland has held the position of Attorney General (2007 to 2010), Minister of State (Home Office) (Crime Reduction) (2007 to 2007), Minister of State (Home Office) (Criminal Justice and Offender Management) (2003 to 2007), and Parliamentary Secretary (Lord Chancellor's Department) (2001 to 2003) in government.
Around the Web