Bandits invaded a Mon Repos supermarket and beat its proprietor before escaping with an undisclosed amount of cash on Sunday afternoon.
In addition to the cash, the robbers managed to cart off a computer and SIM cards from the Odie Supermarket, Clothing, Hardware and General Store.
The attack, which occurred around 2.54 pm, was captured on surveillance cameras installed on the premises.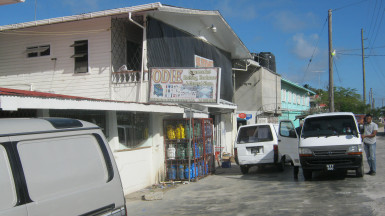 At time of the robbery, the cashier was at the cash register attending to a male customer, who was enquiring about bread.
As the customer was speaking on his cellphone, she said, another customer entered and requested cigarettes. After he received the cigarettes, the man pulled out a handgun and held up the customer who was on the phone.
The man quickly lifted his hands while the armed robber relieved him of his cellphone.
The cashier said that she did not believe that the man was a bandit initially but after several seconds she realised that it was not a joke. In fear, she ran to the back of the store, where she hid with several other employees.
A salesgirl, who was babysitting the proprietor's five-month-old baby, was also attacked. She gave the bandit permission to search her and to take anything he could find. The man took $600, which he found in her pants pocket.
The bandit then took his first victim outside and ordered him to lay on an alleyway nearby. At this time, his accomplice began beating the owner of the supermarket.
"I hear one a them saying to kill she but she start beg and tell them no, no…," the cashier recalled. The owner of the business, who is Chinese, does not fully understand English and cannot speak the language fluently.
The salesgirl added that she suspected that her first customer who was enquiring about bread was involved in the plot. However, her doubts were put to rest after the man ended up chasing after the bandits with his car after they fled in a waiting vehicle.
The man was eventually forced to abandon the chase after the men began firing shots. He later returned in company of the police.
Around the Web