Several exhibitors say the just-concluded Business Exposition 2015 lacked the necessary components for the networking and marketing needed by small businesses, including the expected attendance.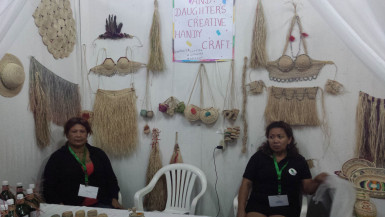 The three-day expo was hosted at the National Exhibition Centre, at Sophia, under the theme, "Guyana's Products and Services – our Gateway to the Good Life."
Exhibitors reported that business was steady for the three days, but the overall consensus was that for the event was not much more than a trade fair.
Kimberly Dick, of Bop Tail Enterprises, which specialises in designed mailboxes, said interest was incredible from other businesses and one customer. Asked what the response had been from large hardware stores looking to acquire new product lines, she noted that there had been no interaction at that level. In fact, she said there was little to no marketing and that there wasn't a structure set up that would introduce small businesses to larger scale businesses that could incorporate products into their catalogues.
Norma Ferreira went to the expo with the intention of finding markets for her Amerindian craft. She said there was a steady stream of minimal traffic and business was slow and she did not attract the level of interest that she had hoped for. She said given the emphasis being placed on the expo and local products, some provisions should have been made to encourage and assist with marketing.
She did note that a representative from Invest Saint Lucia had shown interest and that she would needed follow up on it.
Claudette Croft and Roxanne Beresford, of Prophecy Air Freshener, told Stabroek News that with assistance from the Small Business Bureau they were already marketing their products and ensuring that they were being used at car washes across the country and being sold in local supermarkets.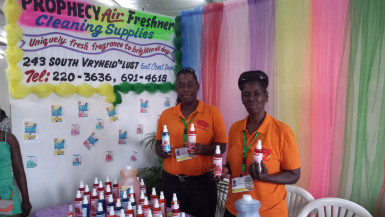 They noted that they did expect and would have wanted to see more networking activities at the expo, while noting that there just wasn't the amount of medium to large-scale businesses participating as they had hoped.
Maxi Williams told Stabroek News that he spent his time at the expo networking, while noting that it was an area where there was a void at the expo. As the creator of his own mass camp for Mashramani, Williams said he was seeking out like-minded creative persons to work with and form business relationships.
Williams also noted that he had hoped to see more government representatives taking part in the expo over the course of the three days but he found that after the opening there had been a significant lack of support in this regard. He told Stabroek News that he really wanted to meet the Minister of Business Dominic Gaskin because the event was being advertised as a government initiative to showcase local business growth. He said that since government wanted to highlight local businesses, it was to be expected that there would be government interactions throughout the three-day period.
Arts and craft exhibitors had a pronounced presence at the expo, although those who were on their own seemed to have a harder time attracting interest than those in groups.
A recent graduate of the Burrowes School of Art was present with her pottery and artwork. She said there was a huge lack of appreciation for art in Guyana. Foreigners were very interested, but locals were not as attentive, she said.
Stabroek News asked how she planned to market her work and if she was willing to approach local cafes, hotels and other venues that could help to bring her attention. She noted that one local hotel proprietor did approach her to feature her work.
Just a stone's throw away, the veterans of the Main Street Art Group had a more assured presence. Bryan Clark, the Chairman of the group, told Stabroek News that by forming a group there was emphasis placed on unity.
The group managed to garner more success than members would have been able to as individuals.
The many exhibitors that Stabroek News spoke had little idea of what to expect from the expo. And while they lauded the fact that the event avoided the party atmosphere of GuyExpo, this might have negatively affected attendance.
There was little excitement among many patrons, some of whom claimed that there was a limited diversity in the products on hand. "There is only so much pepper sauce and grass skirts you can see," said Nirvani Singh.
She said she had expected more from the expo, particularly as it relates highlighting local businesses that may not have a website or are unknown. However, very little stuck out to her. She suggested that the ministry, if it hosts the event again next year, should be inviting larger businesses to show young entrepreneurs how to grow their businesses.
Singh said many women were showing craft and textiles that were not distinct and suggested that forming collectives may be a better route in the future to market their goods.
Around the Web