Infrastructural works have begun on a plot of land where 19 residents of Timehri north will be relocated come next year.
According to a press release from the Ministry of Public Infrastructure, the land is expected to have roads, electricity and water when completed in 2016.
During a meeting he held with the residents on Sunday last, the release said, Minister of Public Infrastructure David Patterson told them that they will be the owners of the new properties. "If you move someone from his home, you have to ensure that you give something back. In a few years these will be prime properties," the release quoted him as saying.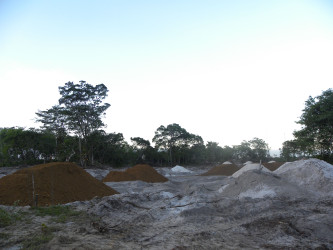 According to the ministry's release Patterson held two meetings; the first with the 19 residents directly affected by the expansion of the airport's runway and the second with the general Timehri North community.
During the first session the affected residents addressed their concerns to the minister and he in turn explained that a mass relocation was not necessary, since only persons residing directly in the path of the expected runway will be relocated some 200 metres to the west of their current locations.
At the second gathering, Patterson interacted with residents and shared ongoing plans for improved infrastructure to water, roads and electricity in the area. He urged them to work in collaboration with the ministry to improve the community in achieving its ultimate aim – becoming registered.
Around the Web