The family and friends of Travis Bollers, the 17-year-old biker who died after a collision in the city last week, yesterday staged a protest for justice, while police finally managed to locate the pick-up that was involved in the crash.
Stabroek News was told last evening that the vehicle, in which the driver fled after the collision, was located at a residence in the North Sophia area and is now in custody at the Kitty Police Station.
However, this newspaper was also told that the driver fled before the police arrived at the location.
Last Thursday, Bollers and his cousin, Quacy McCalman, 22, of Werk-en-Rust, were riding on a CG motorcycle along Pike Street, Campbellville, around 11.30 pm heading towards Sheriff Street when they collided with a Toyota Tacoma that turned into the street.
Bollers, who was riding the bike, and McCalman, who was the pillion rider, were subsequently rushed to the Georgetown Public Hospital, where the teen was pronounced dead on arrival. McCalman was admitted to the hospital.
Speaking at a demonstration the family held at the Square of the Revolution yesterday to garner support to find the driver, Debbie Rodrigues, an aunt of the dead teen, said two eyewitnesses have contacted the family and are assisting police with their investigations.
Rodrigues related that one of the eyewitnesses supplied descriptions of both the driver and the vehicle which were involved in the accident.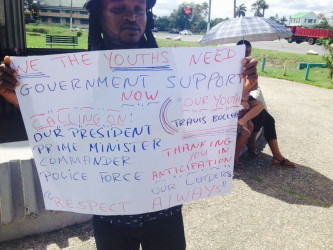 The family was unsatisfied with the slow pace of the police investigation since the driver of the vehicle remained at-large.
Meanwhile, McCalman, who was present at the demonstration, suggested that Bollers' life could have been saved if he was taken to the hospital sooner. He explained that his cousin's body was left on the road for at least 30 minutes before a woman in a passing vehicle stopped to render assistance.
The man related that during the 30 minutes, he solicited assistance from both a nearby taxi base as well as a passing police patrol vehicle. However, his attempts were futile as both parties ignored his plea.
Furthermore, McCalman stated that because he was caught up in trying to secure a vehicle to transport his cousin, he was not paying attention to the pick-up's driver, who reportedly fled the scene after realising the extent of Bollers' injuries.
"I feel if we been get assistance before, he life coulda have saved. Yeah, 'cause is nuff blood he lose pon the road deh," the young man said.
Attempts to confirm these reports with Traffic Chief Dion Moore were, however, unsuccessful.
Around the Web