Three weeks after pedestrian Julian Leitch was fatally struck down by an attorney, relatives continue to express their dissatisfaction with what they say is the slow manner in which the police are dealing with the case.
Leitch, 47, was last seen alive at around 6 pm on the evening of November 10th by his mother just before leaving the Lot 'C' Lama Avenue, Bel Air Park residence he shared with his parents. The man was reportedly on his way to watch the annual Diwali Motorcade when he was struck down on Duncan Street by a vehicle driven by attorney Keshia Chase.
Speaking with Stabroek News on the condition of anonymity, the dead man's sister stated that both she and her parents are upset that no charge has been laid as yet in the case three weeks after the accident.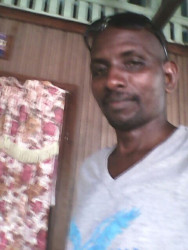 She further stated that while she continues to receive little information from the police as it relates to matter, she was informed that the file is still to be taken to the Office of the Director of Public Prosecutions for advice.
Additionally, the woman revealed that representatives of Chase had contacted the family. However, she pointed out that she chose to stay out of that interaction since it proved to be too much for her to deal with.
It was related that the attorney recounted to the police that at the time of the accident Leitch was wearing earphones when he walked into the path of the vehicle and was struck down.
According to a statement by the police, "Enquiries disclosed from the driver of the car … that she was proceeding east at a normal rate of speed when she suddenly saw the pedestrian on the centre of the road in front of her vehicle but because of the closeness, he was struck down. He was rushed to the Georgetown Public Hospital where he died at 20:45 hrs whilst receiving treatment".
Attempts to contact Traffic Chief Dion Moore as it relates to police investigations proved futile.
Around the Web