Minister of Governance Raphael Trotman on Monday re-commissioned the Guyana Gold Board (GGB) branch office at Bartica and urged its staff to always have integrity and accountability as the foundation of their operations.
Trotman remarked that the closure of the office in 2014, amid allegations of gold tampering, had an adverse effect on the mining community, therefore a decision was taken to overhaul and reopen the office since Bartica is soon to be an established town.
According to a Government Information Agency (GINA) report, Trotman observed that with numerous reports of illicit activities the new office will provide enhanced protection of the State's patrimony and his administration is certain that the community will ensure greater flows of revenue into the national reserves.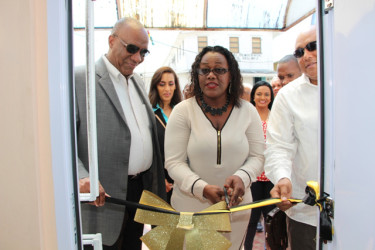 Minister Trotman also shared that the government plans to constitute a new board in January, 2016, and issue a new mandate to all GGB offices in the various mining districts, in order to eliminate loopholes and deficiencies.
"We want to review and assess the number of licensed gold dealers and traders to see how many we have and how it relates to our gold declaration.
We want synergy between concessions granted, the production of miners and their declaration because often times they have concessions but their declarations are not what it should be," he was quoted as saying.
Also accompanying Trotman were Minister within the Ministry of Social Protection Simona Broomes and Minister of State Joseph Harmon, who in his address acknowledged the security challenges facing miners and assured that the government is taking the necessary steps to address the matter. Consequently, advisor on National Security Brigadier (ret'd) Edward Collins is currently collaborating with law enforcement in the region.
General Manager of the GGB Lisaveta Ramotar noted that the responsibility of the office was two-fold—to increase gold declarations and stimulate the community's economy.
For his part, Regional Chairman Gordon Bradford expressed gratitude for the re-establishment of the office and advised the staff that transparency and honesty were integral in their duties as the first line of security of the country's wealth.
Additionally, Trotman said the GGB is developing a plan to strengthen the legal framework and also guarantee a closer relationship among agencies such as the Guyana Revenue Authority, the States Assets Recovery Unit and the Special Organised Crime Unit.
Around the Web