The Ministry of Social Protection is partnering with the Mayor and City Council, the National Commission on Disability and UNICEF to ensure Georgetown is made more accessible for persons with disabilities, especially children, the ministry has said.
In a statement issued yesterday, one day after International Day of Persons with Disabilities was observed, the ministry said that the partners would ensure that persons with disabilities are fully included in the initiative.
It was noted that persons with disabilities face several barriers to inclusion in key areas, including inequity in access to services such as transportation, public buildings and spaces, and recreational facilities.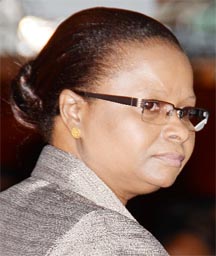 The initiative is in keeping with the theme of     this year's observance, "Inclusion matters: access and empowerment for people of all abilities."
With regard to making public spaces more user friendly, UNICEF and key partners have supported an initiative for the development of a disability-inclusive playground in the National Park. It is hoped that this effort will be replicated in communities all across Guyana
The statement noted that for the active participation of persons with disabilities to occur, all barriers to access must be identified and addressed, with the full involvement of those affected in the planning and shaping of their communities. It noted that a cultural shift is integral for this inclusion and reduction of inequality in the society.
According to the statement, Minister of Social Protection Volda Lawrence said the administration is committed to improving the lives of persons with disabilities in Guyana.
She also assured her commitment to the protection of their rights. "….I personally pledge my efforts to work towards full implementation of the key legislation and to protect the rights of the differently-abled. I am convinced that every Guyanese has a part to play in nation building and your contribution is highly valued," she was quoted as saying.
The statement added that efforts have also begun in the improvement of social, economic and educational opportunities, with the aim of creating a conducive environment to allow for the active participation of persons with disabilities. There are also ongoing collaborations to make available key legislation and documents transcribed into braille, which will be issued throughout the year to public assistance beneficiaries.
Around the Web