As they work to deepen cooperation, the Iwokrama International Centre for Rain Forest Conservation and Development last week hosted the executive management of the North Rupununi District Development Board (NRDDB) and village leaders of the 20 local communities under its umbrella.
According to a press release from Iwokrama, the visit was for the communities to familiarize themselves with phase two of the centre's sustainable timber model, tour the Iwokrama River Lodge, tour the village of Fair View which is located in the Iwokrama Forest and to enter into final deliberations on the renewal of the Collaborative Management Agreement (CMA) and Memorandum of Coopera-tion (MOC) between the centre and the NRDDB.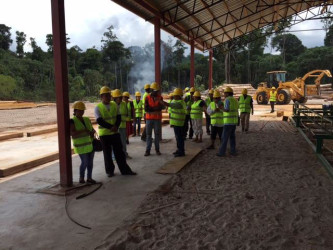 It was noted that the centre has a close working relationship with the NRDDB and the constituent communities and the mentioned agreements provide the basis for co-management of the Iwokrama Forest and collaboration on various activities such as business development, conservation, field operations, monitoring, research and security amongst other areas. Last year Iwokrama and the communities partnered with the NRDDB to develop the first Community Monitoring Reporting and Verification System (CMRVS) in Guyana and arguably the world's first. Only recently the communities and Iwokrama again collaborated to rescue 27 Arapaima fish which were trapped in a drying pond and in 2013 a joint patrol resulted in the arrest and prosecution of two illegal hunters and fishermen, the release noted.
Chairman of the NRDDB Anthony Andries was quoted as saying, "What ensued out of that visit was a unified commitment at working with the centre in co-management of the Iwokrama Forest and the promised support especially in the area of training and capacity building for our people. Over the years this capacity building has led to the development of many community-based businesses thus providing livelihoods for many community members. The training in CMRVS has allowed communities to be more attentive in how they manage their titled lands."
The release said the community leaders toured the forestry operations and held discussions with the centre's management on how the communities would participate and benefit from these operations. It noted that the visit was arranged against the background that the executive of the NRDDB and many Toshaos have changed after the recently concluded elections.
Around the Web