The National Air Transport Association (NATA) yesterday honoured three members of the civil aviation sector in commemoration of International Civil Aviation Day.
Director of Aviation Safety Regulations Ankar Doobay, Operations Super-visor Bholanauth Baijnath and Captain Gary Sahai were honoured for their sterling contributions to the local aviation sector.
Doobay started off as an aircraft maintenance engineer in 1982, two years later he became chief engineer at Air Services Limited. Additionally, when the Civil Aviation transitioned to the Guyana Civil Aviation Authority, he was appointed Manager of Airworthiness and he was recently appointed Director of Aviation Safety Regulations.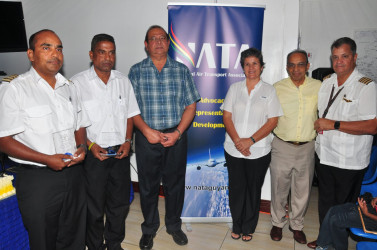 Sahai obtained his private pilot's licence at the Guyana School of Aviation. He did his commercial flight training at Flight Safety International in Miami. He started flying in 1997 and has achieved the mark of 10,000 flying hours and 4,000 hours on agriculture flights.
Meanwhile, Baijnath ventured into the aviation field in 1988 working with Trans Guyana where he had opportunities to travel to the hinterland in shuttle operations. In 1999, he began working with Roraima Airways where he has been for the past 16 years. He was described as dedicated and determined.
Around the Web