Residents of the Wakenaam community petitioned Minister within the Ministry of Public Infrastructure, Annette Ferguson about the operations of the stelling during her visit there.
According to a press release from the ministry, the residents "expressed concern with the administration of the Wakenaam Stelling, particularly in relation to its erratic schedule."
The schedule resulted in many inconveniences, the residents told Ferguson but one resident in particular said, "We are not asking for $10B or $15B to be injected into this stelling; all we're asking is that those who are part of its administration to do things that are of maximum benefit to the passengers."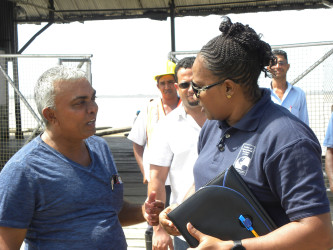 The minister in response told the residents their issues will receive immediate attention.
Residents also expressed concern that the ferry service is only available a few days a week, the release said, and they asked for a resumption of daily services.
Additionally, Ferguson made several other stops during the five-hour Wakenaam visit amongst which were: Wakenaam Guyana Power and Light (GPL) power light; the construction of rip-rap sea defence at Maria Johanna; the Wakenaam Sea Defence Office and the Wakenaam Post Office.
Ferguson also encouraged the residents more so the business community to play their part in doing things to the benefit of the community.
Around the Web