A sand truck driver is now dead after an accident on the East Coast Demerara just after midnight yesterday.
Dead is 50-year-old, Youghraj Singh of Block 'B', Coverden, East Bank Demerara.
According to a statement issued by the police, the accident occurred at 12:30 hrs when Singh who was reportedly speeding, collided with a utility pole on the Good Hope Public Road. He sustained injuries and was subsequently taken to the Georgetown Public Hospital where he was pronounced dead on arrival.
When Stabroek News visited the home of the dead man, his family refuted claims that Singh was speeding.
According to the dead man's daughter, Fiona, based on the distance between the head of the street that he drove out from and where the truck collided with the pole, her father would not have covered enough distance to pick up any speed at all. Additionally, there was minimal damage to both the truck and the pole.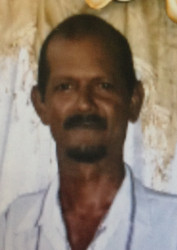 "If he was speeding, he would've caused more damages to the truck. Only the light and the bumper damaged and the rear view mirror broke off and the lantern post still standing," the daughter said.
The daughter also lamented that even after hearing the impact of the collision, no one from the nearby security firm came out to render any assistance. Instead, Singh was transported to the hospital by a family friend who had stopped after recognizing the truck. Under the impression that Singh might have experienced a puncture, the man approached the parked truck only to find Singh slumped over the steering wheel as though he was asleep.
Meanwhile, Patricia Singh, explained that prior to operating as a sand truck driver, her husband had been a police officer for 21 years. Patricia stated that she last saw her husband at around 11:30 on Tuesday night when she woke to make tea for him, adding that he kissed her goodbye as he would normally do before heading out to the sandpit.
She received a phone call at about 2 am yesterday informing her that her husband had been involved in an accident. As a result, she rushed down to the GPHC where she was met with her husband's lifeless body. "Me husband was a loving husband to me, now him gone and lef we," she said in between sobs.
Patricia also noted that the only visible sign of injuries she observed was blood oozing from his nose. A post-mortem examination is expected to be done tomorrow.
Singh leaves to mourn his wife of 30 years and three children.
Around the Web