A Melanie Damishana shopkeeper has lost a kidney after being shot by a bandit yesterday, the third attack on him in a year.
According to a police press release, Lebert Thomas, 50, of Melanie Damishana, East Coast Demerara, was parking his car in his yard when he was confronted by two men, one of whom was armed with a gun. He was shot to his abdomen and the men escaped. Thomas was then rushed to the Georgetown Public Hospital where he was admitted. He is now in the Intensive Care Unit.
"I was inside when it happen and I hear the explosive sound but I thought it was a squib on the road," Thomas' mother explained to Stabroek News yesterday. She said the man who owns a shop where he lives is no stranger to being robbed as he was attacked and injured twice during the year.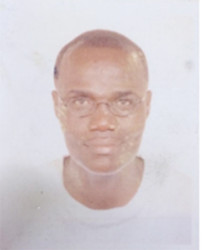 "It wasn't the first time, earlier this year they come in the house and stabbed he up with an ice pick and he pass (a lot of) blood," she said, pointing out that a mere two months ago the man was attacked and stabbed several times again. "I don't know what to say you know, God is in charge," she said, recalling the commotion outside after hearing the gunshot. She related to Stabroek News that some minutes after she heard the loud bang, she heard her son calling out to her saying he was shot.
"He call and said he was shot and when I go out I see he laying on the ground in a pool of blood," she added, describing the traumatic experience of seeing her son, yet again for the third time, on the ground in a pool of blood after being attacked.
Stabroek News was made to understand that the two men jumped over a side gutter into Thomas' yard and confronted him when he was closing his gate. His mother relayed that he tried to fight the bandits off and that's when he was shot to his abdomen.
He was rushed to the Georgetown Public Hospital where he underwent surgery to remove one of his damaged kidneys.
Around the Web