Sixteen representatives of several Rastafarian organisations on Wednesday met with the Attorney General Basil Williams at his invitation in the AG's Chambers and a key issue discussed was the decriminalisation of two ounces of marijuana for personal use.
In recent weeks there have been stepped up calls for the decriminalising of the possession of small amounts of the drug for personal and religious use amid a flood of such cases in the court leading to incarceration.
A release on Thursday from the AG's Chambers said that representatives including the Guyana Healing The Nation Theocracy Party, Guyana Rastafari Council, Twelve Tribes of Israel, House of Nyabinghi, Guyana Rastafari All Mansions (Linden) and a Brooklyn Rastafarian engaged in a detailed discussion with the AG during which they presented documentation to back their claims of human rights violations and marginalisation for the use of ganja as a religious sacrament and a medicinal herb.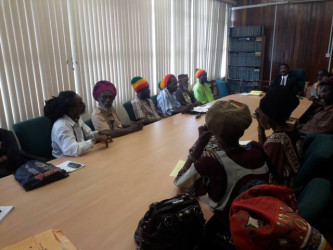 The release said that the main issues discussed surrounded the decriminalisation of the possession of two ounces of marijuana for personal use and the possibility of Guyana setting up a commission to examine marijuana legalisation.
According to the release, the Attorney General thanked the representatives for their frank discussions noting that he was enlightened by some of their revelations on the uses of marijuana and hemp. He said that the information and documentation furnished to him has enabled him to better understand their dilemma.
The AG informed the Rastafarian Representatives that in keeping with the Government's mandate of consultation and transparency, the issue will be raised at Cabinet.
Members of the Rastafarian community had staged a picketing exercise on December 3, 2015 outside the Attorney General Chambers on the matter but the AG was out of office at the time and Wednesday's meeting was arranged so as to afford the Rastafarian Representatives a proper forum to voice their concerns.
Around the Web