Commuters in the city will soon be spoiled for choice when it comes to bus sheds in its environs.
Kwame Mentore and Jermaine Murray of Pyramid Shelters and Outbranding hope to bring 50 bus sheds and bins to the city before Guyana's 50th Independence Anniversary.
Pyramid Shelters is one of two developers working to create bus sheds in the city. Stabroek News reported last week that businessman Brian Yong, owner of Quark Communications Inc, had entered into an arrangement with City Hall to construct several bus sheds in the city.
Usually reliable sources shared that the developer would construct the sheds at his own cost and was expected to pay the city $5,000 per spot per year for an expected revenue of $500,000 per year.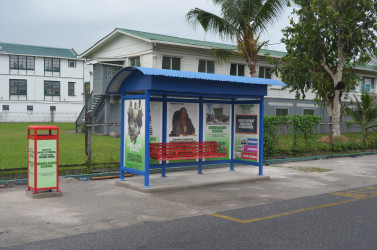 Town Clerk Royston King has confirmed that "a developer" would be working with the city to construct bus sheds which would provide shelter, digital advertising and Wi-Fi services to commuters.
Speaking with Stabroek News yesterday, Mentore explained that his company will not be providing those services, but rather will offer "comfortable seating, solar lighting, corporate branding and adjacent bin placement with another feature—USB—charging soon to be added.
He said that his company is currently offering corporate clients the option to brand the shed's seven 5ft x 3ft panels at an approximate cost of $80,000 a month.
"Right now there are four available locations and we are hoping to secure another 10 by the end of the week. We are also hoping to soon extend to the outskirts of the city," Mentore said adding that with his company "customers see what they are getting;" a product he is confident is cost effective.
One shed, which stands at Croal and Camp streets, is complete and branded by Green Acres School while another at Camp Street and North Road is being constructed.
"The base is concrete and the structure steel with polycarbonate walls and corrugated roofing material," Mentore said, noting that you can also find bins adjacent to each shed as a means to curbing the littering which continues to affect the city.
Encouraging corporate Guyana to become involved in sponsoring and branding sheds or bins Pyramid Shelters also called on Guyanese who use the sheds to refrain from vandalising them.
"We are trying to make people comfortable, don't ruin it by destroying a good thing," Mentore said.
Repeated efforts to contact the other developer proved futile.
Around the Web