The Government of Guyana yesterday declared its support for Antigua and Barbuda's candidate for the position of Commonwealth Secretary General (SG), Guyana-born Sir Ronald Sanders.
The announcement of support in a statement came six months into the life of the APNU+AFC administration and amid ongoing division in the Commonwealth Caribbean over who should be the candidate. The new SG is to be chosen on Friday when the Commonwealth Heads convene in Malta.
By the principle of rotation it is the Caribbean's turn to nominate a successor to India's Kamalesh Sharma. However, the Caricom countries that are members of the Commonwealth have bickered for nearly two years over who the candidate should be. The other candidate remaining in the race from the Caribbean is UK peer, Baroness Patricia Scotland who has been nominated by her native Dominica. Her status as a peer and former senior member of the UK government has let to criticisms that she is really London's candidate. Former Planning Minister Dr Bhoe Tiwari who had been nominated by Trinidad and Tobago had his candidature withdrawn last month after the change in government in Port-of-Spain. New Prime Minister Keith Rowley thereafter announced his support for Sanders' candidacy.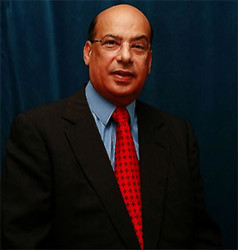 With Guyana and Trinidad declaring support for him, it means that Sanders has support from all but a couple of Caribbean states. The only other country supporting the candidacy of Baroness Scotland is said to be Barbados.
The question now is whether the continuing division in the Caribbean will hurt its chances of one of its candidates securing the SG post.
Amid the Caribbean division over the last two years, Botswana nominated Mmasekgoa Masire Mwamba for the post as SG.
Nearly a year ago, after divisions persisted in the Commonwealth Caribbean, Sanders withdrew from the race but was later prevailed upon to re-enter.
In withdrawing last year, he had stated in a letter to Antiguan Prime Minister Gaston Browne that while he was grateful for efforts to advance his candidacy, he was "deeply anguished" that despite majority support for him the region has not been able to settle on one candidate.
"To be successful, the region must have a single candidate and should not delay any longer its entry into a campaign that has (been) already started by others. I have no wish to be part of a fragmented process in the Commonwealth Caribbean at a time when our need for unity is so urgent in our own interest. Therefore, I have decided to withdraw my name from contention within the Caribbean for the post of Commonwealth Secretary-General," he wrote.
In July this year, Foreign Affairs Minister Carl Greenidge told Stabroek News that Guyana was still holding out hope that a consensus will be had in Caricom, while noting that up to now challenges persist. "You will appreciate that Caricom itself is challenged to settle for a single candidate and we ourselves were hoping that would be best route," he said.
According to Greenidge, a Caribbean consensus was relevant and necessary "because if that were to happen, the chances of the Caribbean candidate retaining or getting the positon would be a lot stronger."
The Ministry statement yesterday noted that Sanders was born in Guyana and at the time of his departure from the country was the youngest ever person to be appointed as head of the Guyana Broadcasting Corporation. His career encompassed broadcast and print journalism, development and commercial banking, and diplomacy and international negotiations in both the public and private sectors. It noted that he is currently Antigua and Barbuda's Ambassador Extraordinary and Plenipoten-tiary to the United States and Permanent Representative to the Organisation of American States. He also previously served as Antigua's High Commissioner to the United Kingdom and the World Trade Organisation where he had special responsibilities for negotiations on financial and trade matters in the WTO and with the International Monetary Fund and the Organization for Economic Cooperation and Development.
Comments

Bharrat Jagdeo The PPP/C is committed to constitutional reform, says Opposition Leader Bharrat Jagdeo.

Ray Lengend Ray Lengend who went on a fire-bombing spree of mosques throughout southeast Queens, this week pleaded guilty to the crimes against Muslims who the 45-year-old Guyanese man claimed in 2012 had been "trying to take over his life", according to the Times Ledger in Queens, New York.

BEIJING/SEOUL, (Reuters) – A small earthquake near North Korea's nuclear test site on Saturday was probably not manmade, the nuclear proliferation watchdog and a South Korean official said, easing fears Pyongyang had exploded another nuclear bomb just weeks after its last one.

Damaged electrical installations are seen after the area was hit by Hurricane Maria en Guayama, Puerto Rico September 20, 2017.

Colin Firth'Loving' premiere, 69th Cannes Film Festival, France – 16 May 2016 ROME, (Reuters) – British actor Colin Firth, who has often played the role of a quintessential Englishman in his many films, has become an Italian citizen, Italy's Interior Ministry said.