CARACAS, (Reuters) – Venezuelan opposition leaders and protesters yesterday demanded the release of a veteran Caracas mayor arrested on accusations of plotting violence against President Nicolas Maduro's government.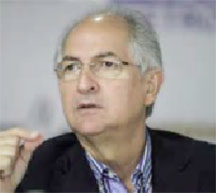 The socialist leader and successor to Hugo Chavez cast Antonio Ledezma's detention on Thursday night as part of efforts to stop a U.S.-backed coup, but opponents scoffed at that as a smokescreen to distract from Venezuela's economic crisis.
Intelligence agents seized the 59-year-old mayor at his office and held him at their Helicoide headquarters. Ledezma was then transferred to the Palace of Justice last night and was awaiting charges, his wife Mitzy said.
"He's in good spirits and very optimistic of demonstrating he has no links with any wrongdoing," his lawyer Omar Estacio said after a brief visit to Ledezma with Mitzy earlier yesterday.
Ledezma is the highest-profile Maduro opponent in custody after fellow opposition leader Leopoldo Lopez, arrested a year ago for his role in street protests that brought four months of violence and led to the death of 43 Venezuelans.
Dubbed "The Vampire" by Maduro supporters, the mayor allied himself with opposition radicals last year in supporting the street campaign, dubbed the "La Salida" or "The Exit." Maduro called the 2014 violence a coup attempt against his socialist government, and officials said last week Ledezma was among various politicians supporting a new plot with dissident military officers to topple the president via air strikes.
"No one is untouchable in Venezuela," Maduro said last night. "We'll use an iron fist against coup-mongers."
The main evidence shown by officials was a public document signed by Ledezma and two other opposition leaders urging a transition, which officials call a roadmap for a coup but opponents term a political strategy paper.
The public prosecutor's office said in a statement that Ledezma would be formally accused of "presumed involvement in conspiratorial acts to organize and carry out violent acts against the democratically constituted government."
Opposition leaders, who gathered in a Caracas square on Friday with several hundred supporters, said Maduro was trying to make Venezuelans forget the economic recession, the highest inflation in the Americas and widespread scarcities.
Maduro, 52, a former union activist, bus driver and long-serving foreign minister, has seen his popularity plummet since he narrowly won election in 2013 to replace Chavez.
Around the Web