SHARM EL-SHEIKH, Egypt (Reuters) – Libya told an Arab summit yesterday that a UN arms embargo on the country must be lifted to help prevent the advance of Islamic State militants.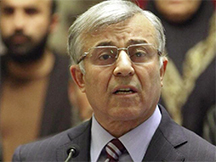 "I say to those who oppose or delay the arming of the Libyan army that you are giving an opportunity to Daesh terrorists to flourish in Libya and to spread beyond it," said Aquila Saleh, president of Libya's internationally-recognised parliament, using a derogatory Arabic term for Islamic State. "And the neighbouring countries will be the first affected."
Saleh was speaking to a meeting of leaders of Arab League member states in the Egyptian city of Sharm El-Sheikh. The summit is expected to agree on the formation of a unified Arab military force to counter growing regional security threats.
The UN Security Council last year passed a resolution that tightened the international arms embargo on Libya. The issue is highly sensitive among Arab states.
Last year, Libyan Prime Minister Abdullah al-Thinni accused Qatar of sending military planes loaded with weapons to a Tripoli airport controlled by an armed opposition group. Doha denied the accusations.
Qatar helped bankroll rebels who ousted Muammar Gaddafi, and is an ally of Egypt's Muslim Brotherhood, an Islamist movement with a following in many Muslim countries including ties to the opposition group now controlling Tripoli.
Around the Web