PORT-OF-SPAIN, Trinidad, CMC– Raymon Reifer slammed a brilliant half century to rekindle a run chase which collapsed several times as Guyana Jaguars pulled off a sensational come-from-behind win over Barbados Pride in the NAGICO Super50 here last night.
Jaguars edged the champions by two wickets in a late night thriller spurred on by Reifer playing a gallant role to be undefeated on 84 and receiving support along the way.
The cliffhanger encounter played, especially in the final moments, like a grand finale as the Jaguars clawed their way back from a path of defeat to the edge of victory, needing one run from four balls after the scores were tied at 168 runs.
Reifer's batting heroics pulled the Jaguars out of slumps at various stages to secure their second win and to virtually assure themselves of a place in the semi-finals.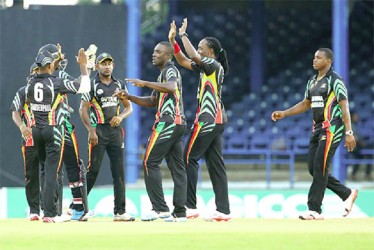 He hit five fours and three sixes and dominated the innings to cancel out another impressive half century from Kraigg Brathwaite which setup Pride's total of 168 for four after they won the toss and decided to bat.
Guyana suffered an early setback on the chase , stumbling to two wickets for two runs when openers Trevon Griffith and Rajendra Chandrika were removed for duck and two respectively, and plunged to 32 for three after Shivnarine Chanderpaul  was caught for 15.
Reifer put on 39 runs for the third wicket with Chanderpaul and 41 for the fourth wicket with Captain Chris Barnwell who was run out for 16, before Guyana experienced another batting collapse.
Three wickets fell in a short space of time as the Jaguars again hit turbulence adding just three runs to the total during that shaky period.
Reifer, voted man-of-the-match, again led the revival by sharing a 51 run stand with Veerasammy Permaul for the seventh wicket as Jaguars fortunes changed from a daunting prospect to victory on the Horizon.
Tailender Devendra Bishoo batted sensibly to be not out on 26, providing vital support to Reifer, in a late innings partnership that produced 41 runs to ensure victory for the Jaguars with four balls to spare.
Javon Searles  and Ryan Hinds grabbed two wickets each for Barbados Pride.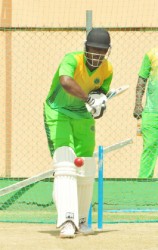 Earlier, the inform Brathwaite top scored for the Bajans with a powerful knock of 73 that featured six fours and a six  and was part of a solid opening stand of 67 with Shai Hope.
Hopes, who scored 26, was the first of three victims caught behind by Anthony Bramble as Barbados went through a state of chaos, losing those three wickets while adding 22 runs.
But a third wicket stand of  46 between Brathwaite and Ryan Hinds reignited the innings until the partnership expired when  Brathwaite lost his wicket by way of the run-out route and the efforts of Bishoo, who along with Royston Crandon and Barnwell picked up a wicket each.
Hinds was not out on 37.
The match was reduced to 35 overs a side because of rain which delayed the start of play.
Scoreboard
Barbados Franchise
K Brathwaite*    run out (D Bishoo)                         73
S Hope c A Bramble      b R Crandon                       26
K Edwards        c A Bramble      b D Bishoo              7
S Brooks          c A Bramble      b C Barnwell            6
R Hinds not out                                                          37
A Nurse not out                                                         11
Did not bat: S Dorrich, F Edwards, K Stoute, J Warrican, J Searles
Extras    6w 2lb 0b                                                     8
Total                                                                       168 for 4
Bowling: Beaton 7-0-42-0,Jacobs 7-0-23-0,Permaul 7-0-32-0,Bishoo 8-0-29-1, Crandon 3-0-16-1, Barnwell 4-0-24-1.
Fall of wickets 1-67 (Hope), 2-78 (Edwards), 3-89 (Brooks), 4-135(Brathwaite)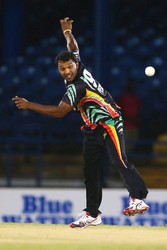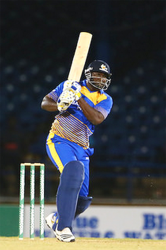 Guyana Jaguars
T Griffith           lbw       b F Edwards                            0
R Chandrika      lbw       b J Searles                               2
R Reifer            not out                                                   84
S Chanderpaul  c A Nurse          b K Stoute                15
C Barnwell*       run out(K Stoute)                              16
R Crandon        c S Dowrich      b R Hinds                     1
S Jacobs          lbw       b R Hinds                                   1
A Bramble+                   b J Warrican                            0
V Permaul                     b J Searles                               11
D Bishoo          not out                                                    26
Did not bat: R Beaton
Extras   11w 2lb                                                        13
Total                                                                         169 for 8
Bowling: Edwards 6.2-1-33-1,Searles 7-0-31-2,Stoute 4-0-15-1,Burse 4-0-23-0,Hinds 7-0-33-2, Warrican 7-0-32-1.
Fall of wickets 1-0(Griffith), 2-2 (Chandrika), 3-32 (Chanderpaul),4-73(Barnwell) 5-74(Crandon) 6-76(Jacobs), 7-77(Bramble), 8-128(Permaul)
Results: Jaguars won by two wickets
Toss: Barbados Pride
Umpires: P Nero P Gustard JS Wilson A Sanowar
Comments

HARARE, Zimbabwe, CMC – Former West Indies coach Phil Simmons is heading back to the ICC World Cup but this time with Afghanistan, and says the Asian outfit will be working on a few surprises over the next few months in preparation for the showpiece next year.

If you are a fan of explosive rugby action, then the National Park is the place to be today to witness the Guyana Rugby Football Union (GRFU)/Hairoun Beer Sevens tournament.

Ramesh Narine guided Floodlights Masters to a 12-run victory over nemesis Regal Masters in the Masters Over-45 year old final of the 2018 Orlando Cup, which ended last Sunday at Hogshead Park, Florida.
In an effort to help offset expenses for the CARIFTA Games Track and Field team destined for The Bahamas, members of the Guyana Community of Service (GCS) will once again be hosting fund raising activities today at Payless Variety Store on Wellington Street and the Giftland Mall at Pattensen.

BRIDGETOWN, Barbados, CMC – West Indies all-rounder, Dwayne Bravo, has refuted international media reports suggesting he is actively seeking a return to the regional side for next year's World Cup in England.